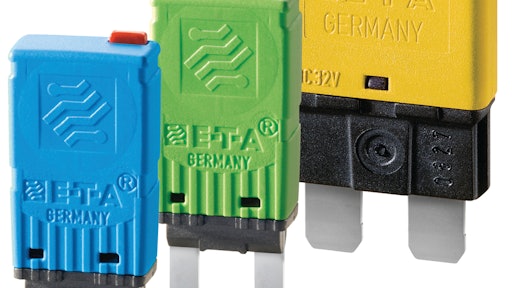 Peerless Electronics is stocking three families of innovative vehicle circuit breakers from E-T-A.
1610 Series- A resettable alternative for standard plug-in type blade fuses for fuse blocks in vehicles with 12V or 24V electrical systems, the 1610 Series circuit breaker reduces downtime caused by blown fuses in trucks, recreational vehicles, speciality vehicles, passenger cars and boats. A new benefit of the 1610 series is a color-coding scheme that corresponds to the colors of blade fuses. Compared to a traditional fuse, E-T-A's 1610 Series thermal circuit breaker offers numerous advantages:
Unlike a fuse, it can be quickly reset, enabling the circuit to be restored with a minimum of downtime. 
It eliminates the possibility of a fuse being replaced with another fuse of the wrong rating. 
1620 Series
Color coded thermal vehicle circuit breakers that mount like a standard automotive fuse into a socket. These breakers meet the requirements of SAE J553.
1620-2 Series

- The Type II circuit breaker with modified reset has the lowest operating temperature in the miniature vehicle circuit breaker market. The 1620-2 also offers a space saving profile.
1620-3 Series

- Is the smallest Type III automotive circuit breaker on the market. For 24V systems, these resettable thermal automotive style circuit breakers are particularly suitable for installation in inaccessible areas. Fits into fuse blocks designed to ISO 8820-3. The convenience and reliability of a circuit breaker in a fuse sized package.