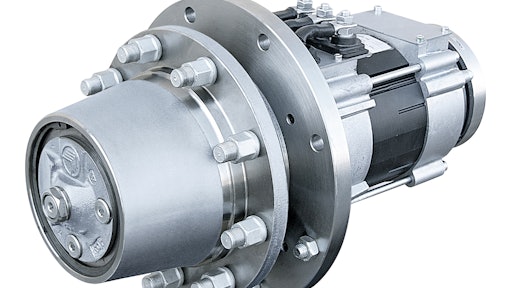 Bonfiglioli has developed a range of innovative solutions for the skylift sector, permitting the electrical drive of telescopic boom, articulated boom, vertical and scissor type lifts.
Fausto Carboni, GM of Bonfiglioli's Mobile and Wind Business Unit explains, "The development of mechatronic solutions is nothing new for Bonfiglioli. Our group has long been active in the design and development of highly energy-efficient solutions for the electromobility sector as well industrial applications. Bonfiglioli has been supplying conventional solutions for skylifts for many years and the sector is an extremely interesting one for us. That is why we decided to develop these new electric traction solutions for aerial platforms. Thanks to these latest developments, we can now offer the market solutions that really do integrate motor and gearbox."
Electric traction offers customers many clear benefits: installation is easy and flexible thanks to compact dimensions; maintenance and repairs are reduced to a minimum; energy consumption is cut dramatically, as are emissions and noise. These last two factors are of particular importance to machines of this type, which often have to operate in environments where strict emission and noise limits are in force.
The new Bonfiglioli solution is designed for use with all kinds of aerial platforms: articulated and telescopic boom types and vertical and scissor platform lifts with service heights from 5 to 27 m, including models for outdoor use (even on rough ground) and for indoor use in tight spaces. The solution is based on a two or three stage gearbox with an integrated mechanical clutch that offers reduction ratios of up to 1:95 to satisfy the widest possible range of needs. The gearbox is coupled to a low voltage induction motor (BT Series) that has been specially developed for traction power and control applications.
The BT Series of low voltage, three phase induction motors offers machine constructors maximum flexibility. Versions are available in voltages from 16 to 53V, and in various sizes (lengths and diameters) covering a wide range of power and size needs according to the type of machine on which they are installed. The picture is completed by an integrated temperature and speed monitoring system, an electronically controlled brake and the option of fitting a temperature sensor to suit specific needs.
When integrated with a 24 to 80V DC battery system and a low voltage control unit, the new solution ensures greater energy efficiency by controlling travel speed more effectively. The result is reduced energy wastage, better travel speed control and increased gradability (the ability to operate on steep slopes) and traction. It goes without saying that the same gearbox can be coupled to motors of different power ratings to meet design requirements and respect external shape and size restrictions. Various motor-gearbox coupling options are available too.