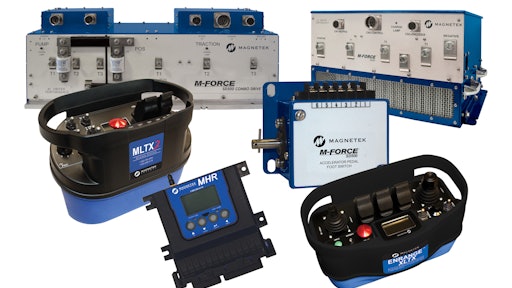 Magnetek Inc., a leading supplier of variable frequency drives and wireless radio controls for mining applications, will be exhibiting at The Bluefield Coal Show, September 11 to 13, 2013 at the Brushfork Armory-Civic Center in Bluefield, WV. Attendees will have an opportunity to discover the M-FORCE SD500 Air Cooled Drive and to try the company's demo featuring wireless radio controls, M-FORCE SD500 Severe Duty AC Combo Drive System, and the new M-FORCE SD500 Accelerator Pedal Foot Switch.
Magnetek's state-of-the-art M-FORCE SD500 Air Cooled Drive is designed for high system efficiency at a wide range of motor speeds in traction applications or at a fixed speed for hydraulic pumps and fans. This flexible DC input, AC output drive can be used in a variety of mining applications including battery-operated mobile vehicles, conveyors, crushers, drills and locomotives.
The M-FORCE SD500 Combo Drive System combines two variable frequency drives in a common enclosure for combined traction and hydraulic applications. This system includes a rugged controller that monitors and controls the system's drives, and a graphic display that provides real-time performance monitoring.
The company's new M-FORCE SD500 Accelerator Pedal Foot Switch provides "on/off" and "speed" reference signals to solid-state controllers such as traction or variable frequency drives. With a simple push of an accelerator pedal, power is transferred to the machine's actuators. This rugged, all metal device has been lab tested to over 10 million cycles and is ideal for harsh environments and off-road electric vehicles.
Visitors to the biennial event can explore Magnetek's latest drive and wireless radio control innovations and meet with industry experts at booth 311. In addition, the company will be previewing the cutting-edge M-FORCE GP1000 drive, which is scheduled to be available in 2014.