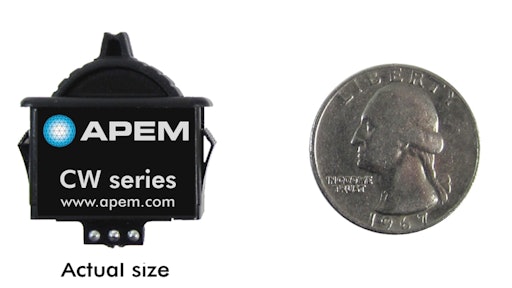 APEM Inc., a leading manufacturer of quality switches and joysticks, was one of five Silver Winners of Lift and Access's Leadership in Lifting Equipment and Aerial Platforms (LLEAP) competition. APEM was recognized for the innovative CW Series Hall-effect control wheel. The CW Series uses this proven non-contacting technology to provide highly reliable and accurate linear output. Designed for integration into joystick handles and control grips, the CW Series enables system designers to optimize the ergonomics and efficiency of their control systems.
The CW Series is a low profile controller measuring only 25 mm x 13 mm x 9 mm above panel and features an arching wheel design to provide one axis of forward and backward movement. Utilizing snap-in tabs for easy panel mounting, the device measures only 18 mm below panel.
Featuring a spring return-to-center mechanism, the CW Series is ergonomically designed for precision finger-tip control, making it ideal for repeated operations over long periods. It also features excellent proportional control, stable output, low noise and long life and is designed for panel mount applications as well as joystick integration.
The CW operates with a 5V DC power supply and has over-voltage protection up to 20V DC. Available with one of four output options, the CW provides a linear signal spanning 90 degrees of mechanical travel. Operating temperature ranges from -40 to 85 C, with a return-to-center tolerance of +/-200 mV. Electrical connections are provided through a three-pin Samtec 0.100 in. pitch male connector on the device for easy installation.
The new CW Series provides customers with a wide range of configuration options including voltage output range, wheel color and style. This flexibility allows customers to configure the device to best suit their needs and achieve maximum performance. Future configuration options will include friction centering as well as LED backlighting.