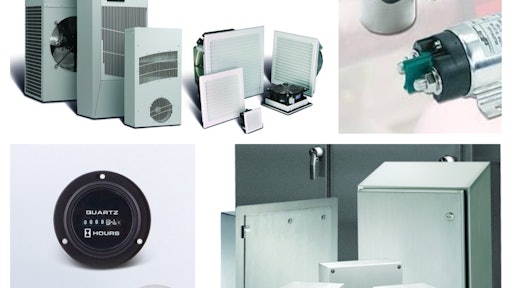 Peerless Electronics has signed distribution agreements and is now an authorized stocking distributor for these four new product lines.
Hoffman Enclosures - Hoffman is a division of Pentair and is a leader in the manufacturing of industrial enclosures. These include NEMA rated mild steel, non-metallic, stainless, aluminum, modular enclosures and more. Hoffman enclosures protect sensitive equipment from dust, dirt, oil, water, corrosion and other contaminants.
McLean Cooling Technology - also a Pentair division, McLean prolongs the life of sensitive electronic systems by keeping them cool. The offering includes sealed enclosure cooling, fresh air enclosure cooling, and more than 175 filter fan models for industrial electrical cabinet applications.
VDO - VDO is the largest manufacturer of meters, gauges, instruments and position, speed, temperature and pressure sensors, senders and switches for the transportation (automotive and marine) markets.
Kissling - Kissling Electrotec manufacturers rugged switches, relays and battery disconnects for demanding applications, Kissling products are exceptionally reliable for applications where very high contact ratings and critical environmental conditions such as humidity, pressure, dirt, aggressive media or increased shock and vibration stability is required. Kissling provides components for numerous industries that demand high quality components for military vehicles, emergency & specialty vehicles, commercial trucks, fixed wing and rotary aircraft and transit buses and motor coaches.