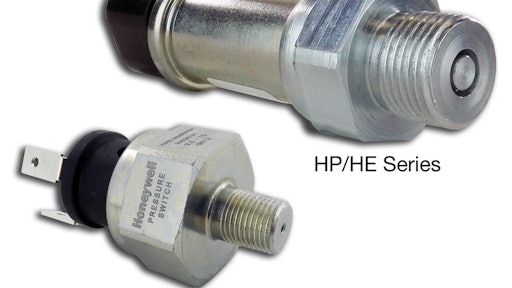 Honeywell announces the addition of three new series to its pressure switch portfolio: the HP Series, HE Series and LE Series. The new Pressure Switches from Honeywell Sensing and Control provide high burst pressure ranges, a long life cycle rating and IP67 sealing, enhancing durability and reliability.
Pressure switches are often installed into challenging applications with wide operating ranges and specific switching requirements. High burst pressure and up to 2 million life cycle ratings allow the switch to operate and survive in demanding applications and ensure long life and reliable switching. These features can help to protect critical systems, reduce OEM warranty costs and end-user downtime. Pressure switches are also often exposed to harsh environmental conditions and washing applications which can result in damaging water ingress. Honeywell's pressure switches include IP67 sealing to improve durability and prevent water ingress from causing the switch to fail.
"Honeywell's platform design allows us to quickly adapt to our customers' unique needs," says Wade Wessels, Global Product Marketing Manager. "This results in customers receiving product samples within two weeks of ordering, and within four weeks for production units. Additionally, this expanded modular portfolio reduces total cost of ownership and helps to protect operators and critical equipment subsystems."
A comprehensive selection of ports, electrical terminations and compatibility with a variety of media allow for use in most customer applications, simplifying the design-in process, eliminating tooling costs and reducing manufacturing and labor costs. The pressure switches provide a wide temperature range of -40 to 120 C (-40 to 248 F), and accuracy of up to ±2%. The electromechanical gauge pressure on/off switches are available with either single pole single throw normally open or normally closed circuitry, or single pole double throw circuitry. They are available for use in a wide variety of applications in the industrial and transportation industries.