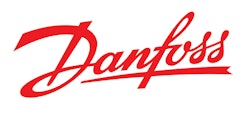 During the International Fluid Power Exposition (IFPE) 2014, March 4 to 8, in Las Vegas, Danfoss, a leading manufacturer of high efficiency electronic and mechanical components and controls, will feature its new electronic pressure switch, type MEP, for off-highway equipment alongside the company's other mobile hydraulic solutions.
The new Danfoss electronic pressure switch, type MEP, is ideally suited for use in safety applications such as control of stabilizer legs, bucket control, tilt control, and more. The series is available as dual or single switch output, and both versions can be supplied with a pulse-snubber to protect the sensor element in applications where cavitation, liquid hammer, and pressure peaks can occur.
With no mechanical parts, a reliable design, and accurate functionality, the MEP electronic pressure switch offers excellent long-term stability with zero drift, superior overpressure ability, and excellent burst pressure. Additionally, the pressure switch features a fully-welded design to protect against leaks.
With a wide range of pressure and electrical connections available, the MEP is suitable for medium and ambient temperatures up to 125 C (257 F), and is UL 508 and ISO 7637 (pulse 1 to 24V) approved.
In addition to pressure and temperature sensors, the company is showcasing its other engineered hydraulic and electronic components during IFPE 2014, including hydrostatic transmissions, mobile electronics, orbital motors, fan drives, steering components, and PVG proportional valves.
IFPE is the leading international exposition and technical conference dedicated to the integration of fluid power with other technologies for power transmission and motion control applications.
Visit Danfoss at Booth 80529 in the South Hall 3 at IFPE 2014.