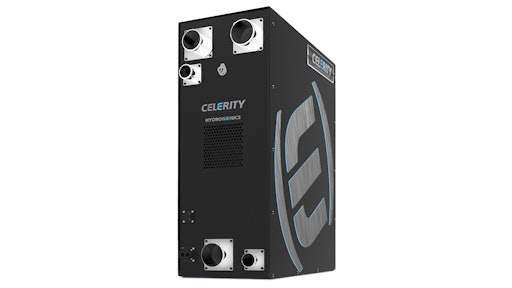 Hydrogenics Corporation, a leading developer and manufacturer of hydrogen generation and hydrogen-based power modules, has announced the introduction of "Celerity," a new fuel cell system purposely developed for medium- and heavy-duty buses and trucks. Celerity provides a distinct solution which will help accelerate the commercialization of zero-emission vehicles by reducing the time and cost needed to integrate fuel cells into a vehicle's drivetrain.
With Celerity, Hydrogenics can offer previously-unavailable installation options that directly reduce the cost of vehicle ownership. Combined with the level of reliability and maintainability that bus and truck operations demand, Celerity is perfectly positioned to accelerate the commercialization of fuel cell buses and trucks across global markets.
Joe Cargnelli, CTO of Hydrogenics, states, "To develop Celerity, we began with our HyPMTM HD platform of low-pressure, non-humidified stack technology, which is at the core of our durable and economical fuel cell systems. Our HD platform negates the need for air compressors, and our patented HD 'dry-dry' technology means our systems operate with non-humidified air and hydrogen. Using a design approach that would have been technically and economically unfeasible with pressurized stacks, we have achieved breakthroughs in value and reliability. We believe that progressive fleet operators with GHG reduction commitments will urge OEM suppliers to put Celerity to the test."
Celerity offers distinct benefits to OEMs with an all-in design including optimal voltage and form factor configurations for swift integration into medium- and heavy-duty buses and trucks without the need for voltage conversion packages. Within an IP rated enclosure, Celerity features include an advanced cold-weather package, achieving system storage capability at -40 C and system startup at -10 C. Celerity also includes reverse current protection and a fully integrated air delivery blower to deliver the optimum air flow for low-pressure stack operation.
Hydrogenics profiled its new Celerity product at the 2014 American Public Transit Association Expo in Houston, TX, from October 13 to 15.