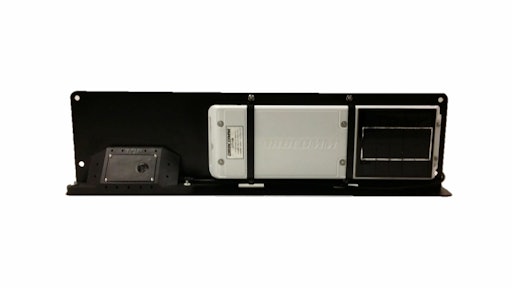 ORBCOMM Inc., a global provider of Machine-to-Machine (M2M) solutions, has launched its GT 1100 Chassis Tracking Solution (CTS) to the transportation and distribution industry at the American Trucking Association Management Conference & Exhibition from October 4 to 7 in San Diego, CA. 
ORBCOMM's GT 1100-CTS has been designed and engineered specifically to facilitate chassis management for owners and operators with any size fleet. This complete, integrated solution features ORBCOMM's award-winning GT 1100 tracking and monitoring device combined with its PS 100 proximity sensor and custom mounting bracket. The GT 1100-CTS provides accurate chassis location and timely load status information, including the ability to determine if the associated container is mounted or unmounted on the chassis as it moves throughout the supply chain. With ORBCOMM's cost-effective GT 1100-CTS, customers can generate more efficiencies through increased asset utilization, faster turn times, more accurate billing and enhanced lane and yard planning.
ORBCOMM's ruggedized GT 1100 and PS 100 can be easily installed on all chassis types. The solution's low profile and sleek design facilitate covert mounting so that both the device and the proximity sensor are protected from contact with the container during chassis loading. In addition, the GT 1100-CTS connects to both the tractor's power source as well as the device's solar rechargeable battery for uninterrupted connectivity. This dual-power source ensures efficient messaging and long service life in the field, providing a reliable solution with a low cost of ownership.
"With the launch of our powerful GT 1100-CTS, ORBCOMM has further enhanced its solutions portfolio for the transportation industry so we can track and monitor nearly every type of transport asset – from dry to refrigerated trailers, rail, intermodal containers, gensets and now chassis," says Marc Eisenberg, Chief Executive Officer of ORBCOMM. "We are making it easy for a company in transportation to control all of their assets."
ORBCOMM's chassis tracking solution also includes CargoWatch, a robust web application for comprehensive device management. This state-of-the-art application delivers near-real-time alerts on chassis location, geofence entry and exit, status change events (bare or mounted) and historical reporting, providing complete visibility and enhanced operational efficiency for chassis owners and operators.