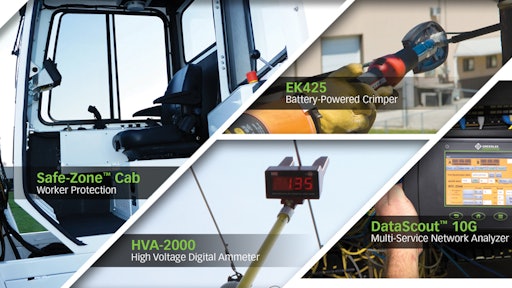 Greenlee/A Textron Company announces that its affiliated brands Greenlee Utility, Greenlee Communications, HD Electric Company, and Sherman + Reilly Inc. will collaborate to showcase a broad range of utility solutions at the International Construction and Utility Equipment Exposition (ICUEE) on September 29 to October 1, in Louisville, KY.
This year all utility and communication brands, will be showcased together in indoor booths 3004, 2704 and 2910 for hands-on demonstrations. There will also be over 17,000 square feet of outdoor booth space, located atL373 and L479, where Sherman + Reilly demos will be on display along with products from other Textron companies and brands to include Textron Systems and Cushman vehicles.
"The ICUEE Show is one of the premier utility shows in North America, and provides Textron the opportunity to display our strength in ergonomics, safety and productivity through enhanced technology all in one setting," says Scott Hall, President of Greenlee and Textron Industrial Segment.
A variety of products will be highlighted with demonstration areas where attendees can see the ergonomic benefits of the tools. Attendees will be able to participate in the "Utility Bucket Challenge" and cut and crimp cable in a simulated overhead bucket with Greenlee battery tools. Sherman + Reilly will also offer participants the chance to step inside the ergonomically designed noise-cancelling Safe-Zone Cabs. Test and Measurement branded products from HD Electric Company and Greenlee Communications will also be on display to showcase their productivity and safety aspects with a diverse product offering for use in the utility field.
Textron Systems will be showcasing its Aerosonde Small Unmanned Aircraft System at the indoor and outdoor locations. Within the utility industry, an AeroSonde can provide superior image collection and data analysis-without exposing humans to live power lines and other dangerous situations.
Cushman vehicles will be on hand in the outdoor locations for end-users to sit inside and view how products showcased can be used in conjunction with its hydraulic features.
As a special presentation, Greenlee's certified Tool Ergonomist, Raffi Elchemmas will premiere an ergonomic presentation entitled "The Cost of Ergonomics" that analyzes the increasing cost of ergonomic injury.
Ken Fridley, Product Manager for the Greenlee Communications branded products, will provide a communications network testing presentation entitled "Advanced Testing for Next Generation Smart Grid Networks" to explain emerging methodologies for testing proper configuration and performance of Ethernet networks using the DataScout 1G and 10G multi service network analyzers.