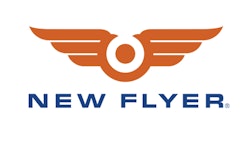 New Flyer of America Inc., a subsidiary of New Flyer Industries Inc., the leading manufacturer of heavy-duty transit buses in the United States and Canada, announces that it will deliver an all-electric transit bus to the Washington Area Transit Authority (WMATA) in 2016.
Not only does New Flyer have the largest installed fleet of buses in the industry, the company is also the leader in zero and low-emission electric transit buses, having delivered over 6,000 buses with electric propulsion systems including: electric-trolley, electric-hybrid, fuel cell-electric, and now battery-electric.
WMATA currently operates 1,103 transit buses manufactured by New Flyer and its associated companies. The Xcelsior XE40 battery-electric bus will be the next advancement in WMATA's alternative fueled fleet, which includes over 780 hybrid diesel-electric buses. WMATA serves a population of five million within a 1,500 square-mile area, including the District of Columbia, the suburban Maryland counties of Montgomery and Prince George's and Northern Virginia counties.
The Xcelsior XE40 is equipped with 200 kilowatt-hours of energy stored in lithium-ion batteries, provided by XALT Energy, a U.S. high-technology manufacturing company based in Michigan. The traction motor is a Siemens ELFA permanent electromagnetic motor rated at 215 hp, with the ability to recover up to one third of the propulsion power to re-charge the lithium-ion batteries during deceleration. Siemens is a global leader in electric propulsion for the transportation industry.
"We're extremely pleased to have the opportunity to demonstrate our Xcelsior XE40 battery-electric bus with WMATA. Their experience operating alternatively fueled, low-emission vehicles is extensive with expectations for reliability and quality extremely high", says Paul Soubry, President and Chief Executive Officer of New Flyer. Soubry further explains, "WMATA is the second major metropolitan transit fleet in the U.S. that will operate our battery-electric bus. In the fall of 2014, the Chicago Transit Authority began operating two New Flyer XE40 buses daily throughout Chicago, offering passengers a cleaner, quieter ride, along with fuel and maintenance savings."
Chris Stoddart, New Flyer's Vice President of Engineering and Service, adds, "It's a great fit for both organizations, as our Xcelsior XE40 bus design and development program has yielded the most robust and durable battery-electric bus ever tested at the U.S. Federal Transit Administration's Altoona Test facility."
The WMATA XE40 bus will be equipped with New Flyer Connect, an on-board telematics system and support service that will allow WMATA and New Flyer Engineers to remotely monitor the battery-electric vehicle in real-time, for optimal management and operational efficiency.