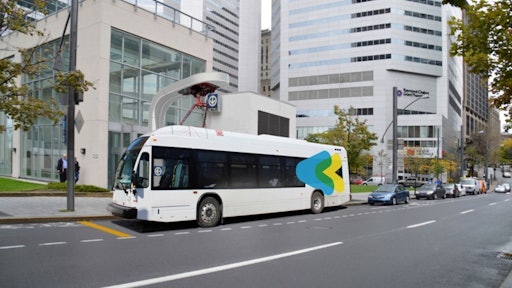 The Battery Show and Electric & Hybrid Vehicle Technology Expo once again provided insight into the current and future trends for battery and other alternative power technologies. This year was the largest yet with a 22% increase in visitors compared to the 2014 show, while exhibition space was at full capacity. More than 500 exhibitors were on hand to showcase their newest technologies and services including:
While the shows' combined exhibition space provided attendees the chance to see these and other new products firsthand, three tracks of conference sessions also offered an opportunity to learn about new research into battery technologies—such as new materials and coating processes in development—and examples of how hybrid and electric systems have been implemented into various vehicle applications.
Maxime Ouellet Chief Project Manager at Nova Bus, part of Volvo Bus North America, discussed the company's current full-electric bus project in Montreal, Canada. Batteries on these buses are recharged via an overhead charger located at the last station along a bus route. Ouellet said this is a more efficient means of charging the batteries rather than throughout the route; instead of stopping multiple times for several minutes to recharge, it will only make one longer stop (generally 3 to 5 minutes) for recharging.
Included on the bus are four li-ion batteries, two positioned on the roof of the bus and two at the bottom, which provide a 10 to 15 mile driving range per charge. The overhead charger is a 450 kW fast charging system that has a similar appearance to a light pole. A bus simply has to stop beneath the charger and it will automatically begin recharging the batteries, and then alert the driver once recharging is complete.
Read more about Nova's fully electric bus project.
According to David Anderson, Technology Development Manager of the Vehicle Technologies Office at the Dept. of Energy (DOE), medium- and heavy-duty vehicles are the fastest growing sector both nationally and globally. Within the next decade, heavy-duty trucks are projected to surpass light-duty vehicles as the largest energy consumer globally. As such, the DOE has several industry-partnership projects in which it works with heavy-duty vehicle and component manufacturers to research and develop energy-efficient technologies to help reduce this energy consumption.
Anderson noted during his presentation at the conference how the SuperTruck program, part of the DOE's 21st Century Truck Partnership, has been one of the biggest projects it has collaborated on. The aim of this project was develop a heavy-duty Class 8 truck that demonstrates a 50% improvement in overall freight efficiency, 30% of which comes from the tractor and trailer while the other 20% comes from the engine.
Read more about the SuperTruck program in the articles It's a bird…it's a plane…it's SuperTruck and SuperTruck rides towards completion.
For fiscal year 2015, the DOE has issued a funding opportunity for the development of medium- and heavy-duty powertrain electrification technologies. The goal, said Anderson, is to reduce fuel consumption 50% compared to vehicles with a conventional internal combustion engine powertrain.
More information about this funding opportunity can be found online.
David Barnett, Product Director at UK-based bus manufacturer Wrightbus, said he believes the future for heavy-duty vehicles is electric, but that diesel is not dead. Diesel-powered vehicles are becoming increasingly cleaner, he said, as regulations such as Euro 6 have been implemented. Many of today's engines act as "mobile hoovers," emitting cleaner air than they take in.
The proposed Phase 2 GHG and fuel efficiency regulations are set to make engines even cleaner. In addition, Matthew Spears, Center Director of Heavy-Duty diesel Standards at the EPA, said the new regulation is focused on advancing technologies of various types and is performance based so manufacturers can choose the technology pathway that best suits their customers. He said any number of technologies could be used to meet Phase 2 including engine stop start systems, powertrain hybridization and waste heat recovery.
Electricity goes off-road
For the first time this year a track of conference sessions was dedicated to the off-highway sector during which OEMs and component manufacturers discussed their experiences developing and implementing electric and hybrid technologies.
Toni Uusiniitty, Product Engineer, Control Technology at Konecranes, provided an overview of the company's development of the world's first hybrid reach stacker. He said the company chose to hybridize the machine because of their dynamic duty cycles which lend well to the use of regenerative capabilities. Additionally, electricity is always present at ports—where reach stackers are typically used—so there is no need for a massive infrastructure investment. Konecranes used a supercapacitor-based energy storage system because larger energy storage systems would not be feasible in this application as there is still a need for a diesel engine, which cannot be downsized, due to the varied ranges the reach stacker may have to drive.
Along with a fuel savings potential of 30%, Uusiniitty said the hybrid system also provides improved responsiveness and acceleration for a 10% productivity improvement. He noted during his presentation that the time is now for the design and development of hybrid technologies in order for companies to be ready for when these types of systems become more "standardized," eliminating the need to play catch up.
Learn more about Konecranes' hybrid reach stacker.
Joe Dvorak, Assistant Professor in the Dept. of Biosystems and Agricultural Engineering at the University of Kentucky, explained the research project he and his students recently completed in which they developed an electric, driverless tractor. Featuring a very simple design, the tractor consists of a battery pack and generator as the power source while also utilizing a forklift drivetrain and off-the-shelf drone system to provide the autonomous capabilities. Dvorak said there are opportunities in agriculture for electrification not being met yet by current technologies, such as its use in more niche markets like farms focused on wholesale organic production/farmer's markets. These smaller farming operations—often between 30 and 100 acres—typically have limited durations of machinery work and high variability of products, and thus do not necessarily need the larger equipment available on the market today. He said the next steps in the research will be looking into best use cases for this type of equipment, noting that implementing the system into a sprayer may be next and what this market is really needing.
While there is still a lot of potential associated with using hybrid and electric technologies, Mike Terzo, CTO of Terzo Power, noted that one of the challenges the industry is facing is the lack of information on best practices and protocols for implementing these technologies. Smaller companies are especially burdened by this as they often do not have the staff, time or experience necessary to develop and use these technologies.
Another challenge the industry may soon begin facing is the increasing amount, and voltages, of electrical components on machinery which will lead to the need for improved CAN technology. Terzo noted it will be necessary for CAN systems to get faster and will likely evolve towards the use of multiple CANbuses on a machine in order to handle the increased amount of communication occurring between components and systems.
Despite these and other challenges, battery and electric/hybrid technologies continue to be an area of development for many due to the benefits they can offer—in regards to efficiency, productivity, the environment and more. How they evolve over the next several years remains to be seen, but will surely keep the industry on its toes.