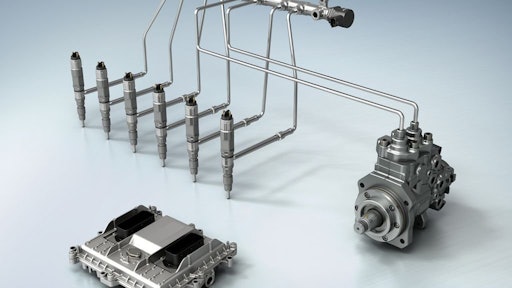 Excavators, dump trucks and tractors – standards such as Tier 4 Final (U.S.) or Stage V (Europe) will soon result in even tighter emissions requirements for construction and agricultural machinery. Bosch offers a wide range of solutions that not only considerably cut operating costs but also reduce the emissions from engines in the off-highway segment. As a supplier of technology and services, the company is taking a two-pronged approach: continuing to refine established diesel systems while pioneering electrification and fuel-cell technology. Bosch will present its innovative solutions for commercial vehicles at the bauma trade fair in Munich from April 11-17, 2016. In the following, we present the Bosch portfolio at a glance.
Hybridization and fuel cells: the future of the off-highway powertrain
E-drive for engines in the off-highway segment: It is not only cars that are headed for an electric future; the same could be true of off-highway applications. Electric motors would comply with emissions regulations while significantly reducing the level of noise on a construction site, for example. Bosch offers various components for electrical powertrains and also links them into whole systems. For instance, it combines the SMG180/120 electric motor and the INVCON 2.3 inverter – both products of tried and tested large-scale automotive production – with its own EDT180 transmission. Add in specially designed software, and the result is a complete powertrain system for off-highway applications. In this system, the electric motor is especially powerful – in acceleration and boost phases, it can achieve peak power of up to 90 kW. The system is also suitable for pairing with an electrical energy storage unit in order to electrify various applications in the off-highway market, including those beyond pure traction drive. This makes speed- and torque-controlled operation possible. Adding on further units like an internal-combustion engine or other transmissions, for instance axle or chain versions, means that the system can be installed in any vehicle. And because the installation space and interfaces required are similar, setting up a serial hybrid based on hydrostatic systems is possible with little extra effort.
Hybrid excavators with energy recovery systems: Hybrids are set to become tomorrow's heavyweights as Bosch brings the electrical powertrain into the off-highway arena. One example of this is robust systems that recover the energy that is released when rotational movement is braked. Hybrid excavators with energy recovery systems could become a common sight on the construction sites of the future. The new technology also allows automakers to downsize and downspeed engines, which can save up to 40% in fuel. Since fuel is the biggest cost factor when operating heavy trucks, hybridization makes them much more economically viable. At the same time, the new hybrid technology helps automakers comply with future emissions limits: lower fuel consumption reduces CO2 emissions. The new powertrain remains as powerful as ever. The electric motor has a continuous rating of 65 kW. This can increase up to 120 kW for brief periods, for a maximum torque of 1,000 Nm. 
Electric baggage tug: Built as part of the publicly funded Innovative Regenerative Onboard Energy Converter (InnoROBE) project, the electric baggage tug now features a fuel cell that functions as a range extender. The fuel-cell control unit (FCCU) supplied by Bosch Engineering is a key component of the fuel-cell system. With integrated hydrogen, air and coolant regulation, it controls the entire system. This was not Bosch Engineering's only contribution to the project. At its location in Abstatt, the company's engineers designed the fuel-cell system so that they could determine the dimensions of its components. To do this, they analyzed vehicle usage conditions, operating duration, refueling specifications and many other requirements before establishing parameters such as battery size, fuel-cell powertrain performance and hydrogen tank dimensions. They constructed the overall system and optimized the interplay of the components, including the open- and closed-loop control functions. The engineers tested their ideas in an in-house fuel-cell laboratory and a testing rig for a 20 kW fuel-cell system.
Fuel-cell control unit: Mobility with zero local emissions is already a reality, particularly for vehicles on the shopfloor – from forklifts to miniature excavators. Many facilities already have the necessary infrastructure: there are hydrogen refueling stations at airports and frequently on the premises of private companies as well. For construction machinery with zero local emissions, Bosch Engineering offers a key technology for fuel-cell powertrains – the fuel-cell control unit (FCCU). This component is the nerve center for off-highway fuel-cell applications. It is based on technology proven in large-scale automotive production. With integrated hydrogen, air and coolant regulation, it controls the entire system. In the hydrogen pathway, the FCCU controls the tank shutoff valve, the pressure regulator and the purge valve. Hydrogen recirculation can be carried out both actively and passively. If required, Bosch's FCCU can also communicate with a refueling facility. In the air pathway, the FCCU controls the air mass flow rate using an electric compressor. A throttle valve is used to adjust the pressure. The FCCU sets the optimal operating humidity for the membrane using a humidifier bypass. A further advantage for automakers is that the FCCU is particularly easy to integrate into a fuel-cell system, thanks to a wide range of analog and digital interfaces. 
Lower operating costs: diesel solutions for construction and agricultural machinery
Injection systems: Bosch supplies diesel injection equipment ranging from passenger cars to medium- and heavy-duty off-highway applications and large diesel engines. The portfolio ranges from systems for smaller off-highway engines (for 3- or 4-cylinder engines delivering up to 130 kW), to medium-duty and heavy-duty applications (for 6-cylinder engines delivering up to 560 kW) – including CNG applications – to large diesel applications (more than 560 kW). The portfolio is rounded off by a new CNG injection valve for large engines. 
Systems competence: Bosch can draw on wide-ranging systems competence in the off-highway segment as well. Apart from injection technology, this includes engine management, sensor technology and exhaust-gas treatment. The electronic engine control unit is the central control unit for the injection system in large engines. It is the communications interface between the operating unit and the engine, processes information relating to the system, and controls the various functional groups (fuel supply, air management, fuel injection, exhaust-gas treatment). Accurate and up-to-date data from the exhaust system are the basis for all functions, from mixture formation to exhaust-gas treatment. Special sensors have been developed for this purpose. They are a decisive element for efficient exhaust-gas treatment, especially now that emissions legislation has been tightened.
Off-highway engines up to 130 kW: Here, the common-rail system of choice is the CRS2-OHW. Starting from on-highway technology, engineers took into account the special requirements of off-highway use such as the large share of full-load operation and large injection volumes. Thanks to this off-road perspective, the system is especially robust, efficient and powerful. The second-generation injectors are excellent examples of this: they have a pressure-balanced solenoid valve and afford engine developers a good amount of flexibility when designing the injection process. Within just a short time frame, as many as eight single injections are carried out per power cycle. The ability to perform multiple injections helps reduce fuel consumption, thereby cutting the CO2, pollutants and noise emitted by the engine. 
Medium-duty and heavy-duty off-highway engines up to 560 kW: Thanks to their new injector design, CRSN3 systems above 2,000 bar achieve a higher degree of system efficiency and therefore consume less fuel. The parts inside the injector, up to and including the control valve, are subjected to rail pressure. This avoids seepage between the low- and high-pressure areas. Only during activation of the solenoid is a small control quantity fed into the fuel return line via the ball valve. In order to permit the opening and closing of the nozzle needle in this "pressure-balanced" space inside the injector, the needle is hydraulically coupled to the push rod. Software-based learning functions and optimized injector characteristics allow fuel quantity correction over the injector's service life. This makes it possible to largely compensate for aging-related changes in the injection process. There are three types of high-pressure pumps for different engine sizes and system configurations. The CP4 high-pressure pump is suitable for medium-duty applications that require system pressure of up to 2,500 bar. When pressure of up to 2,500 bar is needed for heavy-duty operation, the CPN5, based on the in-line fuel-injection pump, is a further option. These systems not only allow compliance with emission targets, but also lower fuel consumption by about 1%. 
Modular common-rail system for large diesel engines delivering more than 560 kW: Whether for a stationary generator or for the powertrain of an excavator, ship or locomotive, Bosch has the right kind of fuel-injection system. The company's MCRS, or modular common-rail system, features an integrated high-pressure accumulator. The system provides major fuel savings compared to mechanical injection equipment, and can therefore dramatically cut the cost of operating these machines. An electronically controlled and oil-lubricated high-pressure in-line piston pump, the CP9.1, generates high pressure, while a CRIN-LE injector injects fuel into the combustion chamber. The special design of the MCRS, including high-pressure accumulators in the pump and in the injectors, allows for a flexible engine concept, minimizes pressure overshoots and guarantees constant high injection pressure on the nozzle, even over multiple injections. The injection system can be adapted to a variety of engine sizes and performance levels. Likewise, the pumps and injectors also come in many sizes and performance ranges. The number of pump elements means the high-pressure pump can be scaled as needed, and various flow rates are available for the injector. The system comes in two versions: one for pressure of 1,600 bar, one for 2,200 bar. For derivative systems (based on truck engines) with more than 6 cylinders, where each cylinder has an output of up to roughly 130 kW, it is possible to create various combinations of CRIN injectors and CP9.1 pumps.
Lower emissions: SCR catalysts for NOx reduction
Denoxtronic 2.2: Besides a more efficient fuel-injection process, another key way to cut NOx emissions is exhaust-gas treatment. These systems also make engine operation more efficient, thus decreasing operating costs. Bosch's Denoxtronic 2.2 is an efficient solution for meeting Tier 4 Final or Euro Stage V requirements and above. It injects AdBlue, a solution of 32.5% urea in water, into the exhaust gas flow ahead of the SCR (selective catalytic reduction) catalytic converter. In the SCR catalytic converter, the AdBlue then breaks down the nitrogen oxides into water and nitrogen. Various spray forms allow for particularly efficient injection of the urea-water solution in every application. Thanks to its flexible and modular design, the system can fulfill a range of installation requirements. For this reason, the Denoxtronic 2.2 with a dosing volume of up to 12 kg per hour has been used around the world in both on- and off-highway applications with great success since 2009. A modular Denoxtronic 2.2 system with a dosing of 100 kg per hour can be used for large engines as well as for marine engines.
Turnkey product: Bosch has developed a modular solution especially for the exhaust systems of off-highway vehicles. Its components can be adjusted to the installation conditions of various applications. Since the introduction of the Stage IIIB/Tier 4 Interim emissions requirements in 2011, modifications to the engine alone have been insufficient to meet these standards. As a result, complex methods of treating exhaust gas have become necessary. Bosch is in fact able to integrate such modern exhaust-gas systems, even as retrofit solutions into used construction machines that were not designed to have space for them. This saves on development, tooling and validation costs. In commercial vehicles and construction machines, Bosch combines the individual components to create a system optimized for the respective application, and then tests it continuously using the latest diagnostic methods. In addition to exhaust-gas treatment systems that operate at top efficiency, it is also possible to adapt modules for vehicles generating up to 5,000 kW of power. In these modules, the functions of the Denoxtronic 2.2, which has already proven itself hundreds of thousands of times over, are being expanded for use in large engines.
Connectivity: ability to predict service visits reduces down times and costs
Preventive diagnostics: The breakdown of an off-highway engine can mean an economic loss. To prevent such down times, Bosch is developing preventive diagnostics. For example, a connectivity control unit could gather operating data from a diesel injector over its entire service life and monitor its operation online from the cloud. Should the data indicate an imminent breakdown, software modules identify the period in which a service visit is necessary. This could prevent down time for the off-highway application, and save money at the same time.