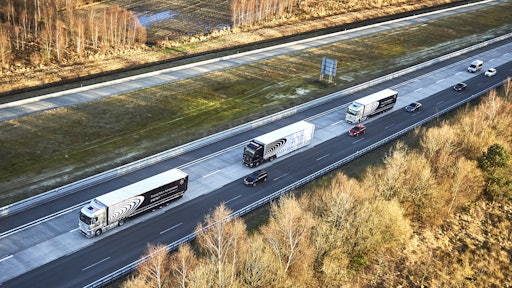 One hundred and twenty years after the invention of the truck, Daimler Trucks is bringing the truck into the internet. In doing so in the IAA (International Commercial Vehicle Show) year 2016, the world's leading truck manufacturer is demonstrating its technological leadership in the field of connectivity and systematically consolidating its worldwide lead in connected trucks. Around 365,000 Daimler trucks around the world are already connected via the FleetBoard and Detroit Connect systems – more than any other manufacturer can offer. Daimler Trucks is driving the systematic connectivity of its vehicles ahead with all parties involved in the logistical and transport process. The completely connected truck initiates a radical change in transport which will make road goods traffic even more effective and efficient – not only for drivers, haulers and vehicle manufacturers, but also for society as a whole.
Daimler Trucks is systematically implementing this goal: since 2013 connectivity has been an established part of its corporate strategy. To this end the company is investing around half a billion euros in the connection of its trucks, and in the creation of associated new services and digital solutions, in the next 5 years alone. Starting in 2016, Daimler Trucks will continuously add new service packages to its already extensive telematics services, and also make its platforms accessible to third parties. The company has also set up the structural framework for the digital transformation of the truck business, and established corresponding structures in all business units.
On March 21, on the A52 autobahn near Düsseldorf, Daimler Trucks presented an impressive example of the possibilities opened up by the digital connection of trucks: Three WiFi-connected, autonomously driving trucks operated on the autobahn with authorization for public traffic as a so-called platoon. Such a combination can reduce fuel consumption by up to 7% and the road space requirement on motorways by almost half - while improving traffic safety at the same time. Based on the Daimler Trucks Highway Pilot system for autonomously driving heavy trucks, the three trucks link up to form an aerodynamically optimized, fully automated platoon. Daimler Trucks calls this advanced system development Highway Pilot Connect.
Bernhard: "We are creating a new, highly efficient and open logistical network."
Dr. Wolfgang Bernhard, member of the Board of Management of Daimler AG with responsibility for Daimler Trucks & Buses, explains, "We are connecting the truck with the internet – making him the mobile data center of the logistics network. It connects all those involved in goods: drivers, schedulers, fleet operators, workshops, manufacturers and insurance companies or authorities. They receive information in real time which was previously unavailable: about the condition of the tractor unit and semitrailer, traffic and weather conditions, the parking availability at motorway service stations, rest areas and much more.
"Our trucks fully connect with their environment, becoming part of the internet and continuously sending and receiving information. All those involved in the logistical process can use these real-time data for their needs. In the future it will e.g. be possible to reduce waiting times while loading and unloading, reduce paperwork and avoid traffic jams. With flash updates over the air or automated transfer of inbound time for trucks heading to the service point maintenance time can be reduced significantly. In this way we are considerably improving the performance of goods transport as a whole. An enormous opportunity to intelligently cope with the growing volume of goods traffic. We intend to use it," says Bernhard.
"Today Daimler lays the foundation for the third industrial revolution. In the era of the Internet of Things, all tools and machinery will be equipped with sensors which constantly provide a real time information flow. This will fundamentally change the way we make business. The Internet of Things is offering completely new opportunities," emphasizes Jeremy Rifkin, author, sociologist and futurologist.
Four hundred sensors in today's Daimler truck register data of all kinds
The worldwide transport of goods is a prerequisite for economic growth. However, transporting more goods in the future requires innovative solutions if we are to avoid a traffic gridlock. One central approach is to fully network the truck with the Internet of Things. Daimler's smart trucks have the potential to radically change road goods transport in the coming years. Already today, Daimler Trucks generates valuable information to a previously unimaginable extent with its approximately 400 sensors per vehicle and is fully connected with software including 100 million lines of code - more than a passenger jet.
Bernhard says, "For efficient logistics, real time data are essential - and our trucks supply these data. Therefore we are investing around half a billion euros by 2020 to connect our trucks with their enviroment and develop specific new applications. This will enhance our customers' performance to operate their businesses safer and more environmentally friendly. FleetBoard and Detroit Connect will considerably help to leverage previously unharvested potential in road transport - both in the highly developed triad markets and in the emerging economies of Africa, Asia and Latin America."
Three hundred sixty five thousand Daimler commercial vehicles already connected
The large volume of data which a truck can send and receive creates completely new possibilities for the entire logistics sector and society as a whole. Previously, the different areas of the logistical network have been only inadequately connected. The information required for smooth-running procedures is often lacking, or it is not part of a network. In Europe, for example, around 25% of all truck mileage is still on empty journeys. With new freight clearing houses based on data from connected trucks, logistics businesses will in future be able to utilize their vehicle capacity much better, and thereby reduce empty journeys. Another example: In 2015, German road users alone suffered around 568,000 traffic jams with a total length of around 1.1 million km – and the resulting increase in fuel consumption and CO2 emissions. With the availability and exchange of traffic data in real time, trucks with intelligent sensors will in future be able to prevent rear-end collisions and circumvent traffic jams. At the same time, the downtime of trucks can be reduced if the truck itself reports a fault at an early stage, and the hauler can schedule a service during the already planned downtime between two transport assignments.
FleetBoard has been a leader in telematics services for trucks for 15 years – in future it will be the nucleus of the new unit Digital Solutions & Services
Connectivity is not new territory for Daimler Trucks. The subsidiary FleetBoard has been setting standards in telematics for Mercedes-Benz since 2000, and is among the world's most successful and innovative providers. FleetBoard collects a wealth of status, tour and position data from the vehicle and sends it to headquarters via mobile phone. FleetBoard offers a host of individual services for fleet, order and driver management, which can be tailored and packaged to customer specifications. At present there are around 180,000 vehicles with FleetBoard systems in operation with around 6,000 customers. And FleetBoard not only connects Mercedes-Benz vehicles. Other vehicle brands can also be retrofitted with the FleetBoard hardware at any time, and easily integrated into the logistics management system. Which means that even companies with mixed fleets can keep track of their entire fleet at all times.
"When the first iPhone was introduced in November 2007, our customers had already been using FleetBoard for 7 years. For over 15 years they have now been able to control their fleet and driver management efficiently both in their Mercedes-Benz trucks and in those from other manufacturers. Nobody has greater experience in this field than Mercedes-Benz Trucks," says Stefan Buchner, Head of Mercedes-Benz Trucks.
To ensure that it remains ahead in the development of new digital solutions related to the connected truck, on April 1, 2016 Mercedes-Benz is establishing the new unit Digital Solutions & Services headed by Dr. Daniela Gerd Tom Markotten, who has many years of experience in the field of IT-supported vehicle telematics. This unit, which will also have FleetBoard GmbH as a nucleus, will direct all activities concerning digital applications for Mercedes-Benz commercial vehicles – in close cooperation with the other divisions of the company. The aim is also to establish the organizational conditions for the development of digital innovations in this highly dynamic field. While it takes around 9 years to develop a new truck, only a few months are available to program software for the user-oriented use of real-time data from a truck.
Also more than 185,000 vehicles already connected with Detroit Connect in North America
In the important North American commercial vehicle market, Daimler Trucks is driving its activities in the field of connected services forward via its strategic partnership with Zonar Systems Inc. As recently as 2015, this cooperation was strengthened by the acquisition of a minority holding in Zonar by the U.S. subsidiary company Daimler Trucks North America (DTNA). Zonar Systems Inc. is one of the leading providers of logistics, telematics and connectivity solutions in the North American market. DTNA and Zonar have long operated in partnership in the field of connected trucks. In 2011, DTNA and Zonar launched the remote diagnosis system Virtual Technician and the all-in one solution Detroit Connect in the market. Detroit Connect is the first telematics solution in the USA and in Canada which is even able to determine the cause behind fault messages during the journey. Customers and drivers of more than 185,000 vehicles have already clocked up billions of kilometers with Detroit Connect.
When a warning message lights up, the Virtual Technician system as a component of Detroit Connect sends a real-time report on the technical condition of the vehicle to the Detroit Customer Support Center. Here the data is analysed within a very short time. On this basis the vehicle operator receives an action recommendation by email within a few minutes, e.g. whether the driver should make for a workshop at once or a service appointment can be made after the transport assignment is completed.
Acting together with the Virtual Technician, Zonar's Ground Traffic Control fleet management makes it possible for the fleet operator to keep an eye on the precise location, speed or fuel consumption of a truck or an entire fleet at any time. Zonar's 2020 mobile communications tablet makes it easier to track hours of service, keep drivers informed through text or voice messaging, document pre- and post-trip inspections and provides advanced navigation.
Autonomous truck platooning lowers fuel consumption and CO2
With the world premiere of the Highway Pilot Connect system, Daimler Trucks gave a live presentation exemplifying the advantages of electronic vehicle-to-vehicle (V2V) networking on the A52 autobahn near Düsseldorf, and also of the next milestone in autonomous driving: the technology allows electronic docking by vehicles on motorways and long-distance highways, also known as platooning. Connected vehicles in a platoon require a distance of only 15 instead of 50 m between them. This considerably smaller distance produces a significant reduction in aerodynamic drag – comparable to slipstream riding in cycling competitions. In this way, a platoon of three trucks can achieve a fuel saving of around 7%, reducing CO2 emissions in the same measure. This makes fuel consumption figures of around 25 L/100 km possible for a loaded semitrailer combination with a gross weight of 40 t. This corresponds to a consumption of only 0.66 L/100 km per tonne, or CO2 emissions of 13.3 g per km per tonne, well below the figures for any passenger car with an internal combustion engine.
In parallel with this, platooning allows much more efficient use of the road space: thanks to the shorter distance between vehicles, a platoon of three linked trucks has a length of only 80 m. In contrast to this, three trucks which are not electronically docked require a total of 150 m of road space. At the same time, platooning makes road traffic much safer: while a human behind the wheel has a reaction time of 1.4 seconds, Highway Pilot Connect transmits braking signals to the vehicles behind in less than 0.1 seconds. This considerably reduced reaction time can make a major contribution towards reducing rear-end collisions such as occur e.g. when encountering traffic jams on motorways.
"The smart, self-optimizing truck has the highest priority for us. Using connected communication between the truck and other vehicles and the surroundings, we can improve traffic flow and lower fuel consumption and emissions. At the same time intelligent trucks help to lower the number of traffic accidents. This is an important step on our way towards accident-free driving," says Sven Ennerst, Head of Truck Product Engineering & Global Procurement.
Highway Pilot Connect is based on the already existing Daimler Trucks system for semi-autonomous driving
The basis of Highway Pilot Connect is networking between vehicles and precise awareness of the surroundings. Highway Pilot Connect is a further development of the well-tried Highway Pilot system by Daimler Trucks. This system allows trucks to drive semi-autonomously, and has been under test since October 2015, in a standard Mercedes-Benz Actros operating on public roads in Germany. The Highway Pilot was first presented in July 2014, in the Mercedes-Benz Future Truck 2025 study, followed by the very first public road authorization for an autonomously driving truck in May 2015, for the Freightliner Inspiration Truck.
Compared to the Highway Pilot, Highway Pilot Connect has the additional technical function for electronic vehicle docking. Communication between vehicles is made possible by an onboard telematics platform. A specific V2V communication module using a special WiFi standard reserved exclusively for automotive enables direct data transfer between the trucks. Highway Pilot Connect uses this for a constant exchange of information with other trucks and the environment.
Major advantage: automatic steering also when not connected to the platoon
The great advantage of Highway Pilot Connect is this: Because of their technology, all the members of such a platoon continue to be autonomously driving trucks. They are able to maintain their direction independently of the vehicle ahead, and thanks to their combination of linear and lateral guidance, they can react to unexpected situations at any time. This also applies if other vehicles cut into or leave the platoon's space. In this case the vehicle can smoothly disengage from the platoon and continue alone in autonomous mode. The driver does not need to intervene. Docking three or more vehicles together becomes particularly interesting in countries with a corresponding infrastructure. In the USA or Australia, for example, trucks cover long distances without bridges and exit roads on highways crossing the entire continent.
Harmonized cross-border regulation is a prerequisite for efficient road transport of the future
With its three Mercedes-Benz Actros Highway Pilot Connect trucks, Daimler trucks participates in the European Truck Platoon Challenge 2016 (EU TPC) – an initiative of the Netherlands during its ongoing EU presidency. Within the European Truck Platoon Challenge, six European truck manufacturers will bring platoons of semi-automated trucks to public roads, crossing borders from various European cities in order to reach their final destination of the Port of Rotterdam on April 6. The overall objective of all OEMs and the Dutch government is to jointly accelerate the introduction of a harmonized, cross-border regulation to optimize efficient road transport in the EU.
Focus on data security
Self-determination for the customer is in the forefront for Daimler where the use of connected services is concerned. Customers have to decide for themselves whether and for what purpose their data can be used. One of the preconditions for the acceptance of connected and autonomous driving is the secure and responsible handling of data. Accordingly, Daimler attaches high data protection and data security standards to developments in these new technology and innovation areas. In the case of FleetBoard, high-performance computers in the European Data Center at Daimler AG in Stuttgart guarantee secure processing of the data and its encrypted transfer around the clock. Thus FleetBoard's data security is on a par with the high standard used in banks.
Experts expect the worldwide volume of road goods traffic to triple by 2050
Seventy five percent of goods transport in Europe continues to go by road. Experts expect the worldwide volume of goods carried by road to triple by 2050. By networking trucks with other vehicles and their surroundings, the entire goods transport sector can be organized to be safer, faster and at the same time more environmentally friendly. In view of the increasing flow of goods, the strain on the infrastructure and a sensitive environment, these are very promising prospects for society and all those involved in goods transport.
Companies in this article