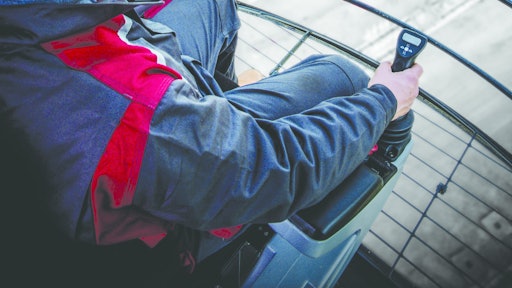 When it launched its Crane Control System (CCS) in 2014, Manitowoc became the first manufacturer to introduce a common operating platform across multiple product lines. The company included the technology on each new model it developed and at bauma 2016 nine of the 15 cranes on display will include CCS. This will give visitors to the company's booth an unprecedented opportunity to see how it has been integrated across the diverse range of lifting equipment from Manitowoc Cranes.
Each CCS unit features the same control layout, including a jog dial and central display with standardized symbols. There are only seven major components that make up CCS, simplifying service and maintenance and delivering better reliability. The seven components are: crane controller, safety controller, small IO (input/output), large IO, joysticks, jog-dial and display. Each can be easily replaced if necessary, or even switched from another machine for the purposes of completing a job.
 
A further benefit of CCS is that it's the first control system from Manitowoc to be developed since the introduction of the company's Product Verification Centers (PVC). At its PVC locations, Manitowoc is able to simulate a variety of applications and environments to which individual components are subjected. This allows the company to predict future behavior and performance and to optimize the design of its cranes and components accordingly, to build-in better reliability, durability and longevity.
 
Jens Ennen, SVP of All-Terrain and Truck Cranes at Manitowoc, and also the company's global head of engineering, was heavily involved in the development of CCS. He says the system allows fleet owners to get better usage from their cranes.
 
"The benefits of standardization are clear and we've been applying the principle to many areas of our engineering design, including counterweights, engines, drive systems, boom and jib options," he says. "But CCS is probably the best example of a standardized system we've introduced across our family of brands and it delivers tangible benefits to crane owners. For a start, its ergonomic layout means the operator no longer needs to stretch for controls to complete operations because everything is in reach. Plus, for fleet owners with multiple Manitowoc products, moving operators from one machine to another is a seamless process. And because the parts are common, owners can keep smaller stocks while the servicing and maintenance is standardized and also much simpler. On top of that, there are a number of performance-enhancing benefits."
 
Among the performance enhancements CCS delivers is the capability to make Potain tower cranes easier to commission and get into service. Calibrating the cranes can be done in as little as 15 minutes and is a one-man job handled at ground level, as opposed to the two-man operation that previously took longer and required one team member to locate themselves at various sensors on the crane. CCS delivers better lift strength for Potain tower cranes too, by considering the load capability of the crane at all structural parts of a jib. When the trolley is moving through a stronger section of the jib, CCS allows the crane to lift more. 
With Grove mobile cranes, CCS delivers performance improvements too, including through its Boom Configurator Mode. By entering just a few details about the lift, the boom configurator will offer the best possible choice of boom set-ups. Then, at the touch of a button, an operator's preferred choice will be engaged. It eliminates the need to refer to a load chart book that might run to 5,000 pages and correspondingly removes the propensity for errors.
The cranes from Manitowoc featuring CCS at bauma 2016 are:
Grove GMK5150L
Grove GMK5250L
Grove GMK4100L-1
Grove GMK3060
Grove GRT8100
Grove GRT880
Grove RT540E
Potain MDT 389
Potain MDT 219