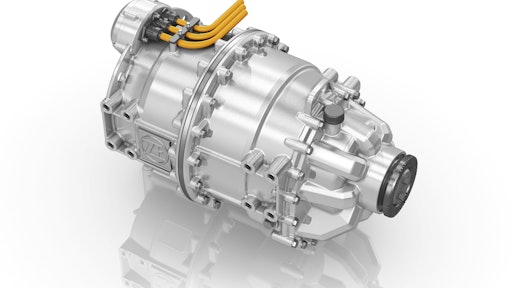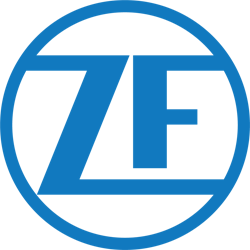 Pure electromobility reduces emissions in cities and enhances the quality of life. Versatile commercial vehicle concepts are required in order to meet the different needs of inner-city applications. ZF offers two sophisticated and complementary systems particularly for buses and delivery trucks, providing e-mobility solutions for global markets. The AVE 130 electric portal axle is the ideal solution for low-floor city buses – including articulated buses. A newly developed central drive for high-floor applications is perfect for smaller buses and delivery trucks. Both solutions will be presented at the International Motor Show IAA 2016, with start of production scheduled for 2018.
With a voltage level of 400V AC instead of 350V AC as in the past, the AVE 130 electric portal axle, which ZF has been offering for years, is much more powerful. As a consequence, a fully loaded articulated bus (about 28 tons) can now be operated with only one all-electric driven axle. The AVE 130's design also opens manifold opportunities for bus manufacturers. The required installation space is the same as that of a conventional portal axle. Manufacturers reduce costs as they no longer have to develop special platforms for e-mobility solutions. New vehicle concepts for both solobuses and articulated buses are possible with the AVE 130. For instance, articulated buses are able to run with the "puller" principle, where the driven axle pulls the vehicle from the second axle instead of pushing it from the rear.
All-electric buses and delivery trucks equipped with new central drive for getting around town
ZF has added a central drive to its electric drive portfolio which can be combined with a direct or portal axle and is particularly suitable for high-floor applications, smaller buses and delivery trucks. The new all-electric central drive moves the vehicle from a standstill to a final speed of up to 100 km/h, comfortably and without interrupting the drive torque. The final speed depends on the respective application and the selected features, such as the applied axle ratio. Increased passenger comfort results from its low-noise operation and an acceleration that is free of tractive force interruptions, and from the fact that the vibrations on the driveline are quieter than in conventional motorized solutions. The required power for this is provided by a water-cooled asynchronous or permanent-field motor, depending on features and customer requirements. This motor features a power output of up to 200 kW and provides a maximum torque of 4,200 Nm at the unit's output. City buses therefore do well even on challenging urban topographies and steep hills for example. The central drive is based on the concept of a fast-rotating electric motor that is combined with a reduction gear and produces revolutions of up to 2,500 rpm at the unit's output. The central drive can be used with both low-floor and high-floor axles in all standard axle ratios as well as in truck applications, especially those used as city delivery trucks. Start of production for this new product, engineered by ZF, is expected in 2018. It is aimed particularly at the strategic global commercial vehicle markets in Asia and Europe. Its modular design allows the central drive to be further developed and easily adapted to meet future applications.
Systems approach for optimum performance
ZF will also combine the central drive and AVE 130 and offer it as one overall system in the future. To provide customers with a harmonized overall system, the electric drive is supplemented with a ZF torque control and a third-party inverter released by ZF.