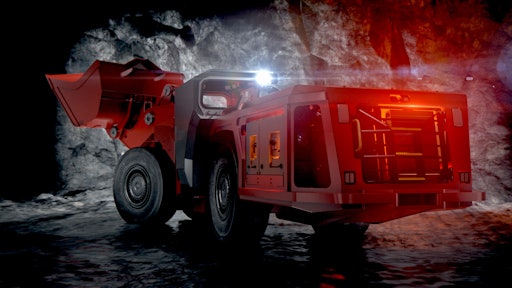 Sandvik is introducing a battery-powered loader, Sandvik LH307B, with new technology for emission-free underground loading and hauling. This will help customers address ever-increasing requirements to reduce emissions and fuel costs, reducing total cost of ownership.
The new Sandvik LH307B brings the best of both worlds to underground mines: utilizing electrical power providing the independence of movement similar to diesel loaders, yet without the related diesel emissions and costs.
The payload of 6.7 metric tons will be moved using components that are shared with the diesel Sandvik LH307, with much the same performance characteristics. Using the charging station's "quick charge," Sandvik LH307B can be ready for use in approximately 15 minutes. Sandvik LH307B is also compatible with Sandvik mine automation and information management systems.
Its lithium titanate oxide (LTO) battery technology enables rapid recharging, providing continuous operation with a single battery pack – there is no need to swap batteries during or between shifts. Liquid cooling guarantees a long battery lifetime across a broad range of ambient temperatures – in fact, sufficient to cover the useful service life of the loader itself. The single-battery strategy offers several tangible benefits: eliminating the need for spare batteries and/or a dedicated crane and battery swap area effectively cuts capex costs.
Sandvik LH307B is available with a service pack designed to keep the loader productive 365 days a year. The service pack includes maintenance kits for each and every service interval, together with planned repairs of major components over the equipment's life. These repairs will be planned in line with actual component condition, giving consideration to the mine's production schedule and minimizing downtime.
Tech specs Sandvik LH307B
Tramming capacity: 6.7 metric tons
Standard bucket: 3.0 cu. m
Approximate weight: 22 metric tons
Battery pack: Lithium titanate oxide (LTO)
Value added
No exhaust emissions: better mine air quality, potential for ventilation cost savings
Lower heat emissions: savings potential in ventilation
Less noise: improved working environment
Clean electrical power, with no cable: improved operational flexibility, no limitations for vehicles in the same area
Advanced LTO battery technology: safer and faster recharging, long lifetime