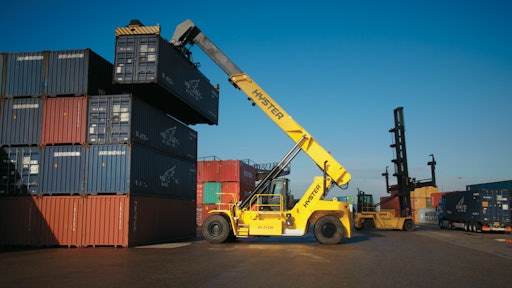 Trimble announces that its Trimble LOADRITE L2180 on-board weighing system is now available as a weight verification option for Hyster ReachStackers and Laden Container Handlers that are used in port, terminal and intermodal freight operations. The new relationship is part of an ongoing commitment from Hyster Company and Trimble to enable container handling customers to meet Safety of Life at Sea (SOLAS) requirements by verifying container weights, while increasing efficiency and improving productivity.
Trimble LOADRITE L2180 On-board Scales
The Trimble LOADRITE L2180 weighing system enables container handling operators to meet SOLAS compliance regulations. It verifies the weight of every container moved and provides accurate information for logistics compliance and reporting. This information can also be used to analyze container handling operations for efficiency improvement and maintenance cost reduction.
The L2180 scale provides the operator with container weight information in the ReachStacker or Laden Container Handler's cab, with accuracy typically within +/- 1% margin of error.
Support for Verified Gross Mass
Trimble LOADRITE L2180 scales are factory approved by Hyster as an option for both new machines and existing fleets of ReachStacker and Laden Container Handlers.
"The Trimble Loadrite L2180 has been introduced as a retrofit option for Hyster ReachStackers and Laden Container Handlers, which provides a reliable solution for customers under the SOLAS requirements. By cooperating with Trimble, we can offer the weighing systems and support to Hyster customers globally. The L2180 will maximize efficiency in container weighing to obtain a verified gross mass (VGM)," says Elmer Dammers, Global Product Manager for Big Trucks, Hyster.
Trusted Worldwide with over 10,000 L2180 Installations
Trimble recently reached a significant milestone with the installation of its 10,000th LOADRITE L2180 weighing system. Since its release in 2009, the L2180 is one of the world's most popular on-board weighing systems. "The 10,000th LOADRITE L2180 is another milestone that recognizes LOADRITE scales are an industry standard," says Kevin Lai, Manager of Trimble's On-board Weighing Business. "Customers around the world use LOADRITE products because their operations depend on accuracy and reliability. The success of the LOADRITE L2180 is built on tested and proven LOADRITE weighing technology and supported by an experienced dealer network. Now the L2180 is available for the specific needs of container weighing applications on reachstacker and container handler machines."
SOLAS Compliance
The LOADRITE L2180 system has an optional upgrade to certify the system as 'Legal for Trade' to meet SOLAS requirements. The system has been evaluated and certified to meet national regulatory requirements such as MID Class Y(b) and OIML R51 for traceable load standards. Legal for Trade is only available in selected countries including: European countries seeking consistency in legal measurement who are members of WELMEC, Canada, Australia, New Zealand, and South Africa.
Installation and Support
On-board scale installation will be performed by Trimble certified installers worldwide, including calibration, training and support by the local Trimble Authorized Dealer.