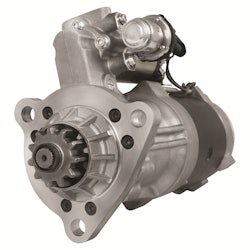 Prestolite Electric Inc.
In the mining industry, heavy-duty equipment and vehicles often run 24 hours a day with multiple restarts and severe conditions. Leece-Neville starters and alternators—which have been field tested in some of the harshest mines around the world— are proven to deliver dependable, long-lasting power, keeping mining operations running and helping to reduce maintenance and replacement costs.
The award-winning PowerPro Extreme 10 starter (36 lbs.) and innovative IdlePro Extreme alternators (39 lbs.) are built specifically to meet the stringent demands of today's mine operators. Lightweight and compact, the units are easy and safe to install—often only requiring just a one-person crew due to lighter weight designs as compared to other popular competitive models that require a two-person crew—and deliver industry-leading starting power and output.
"We know there's a significant difference in cost between routine preventative maintenance compared to full replacement as well as the cost savings for lighter products that only require a single technician to install or repair. We engineer each of our starters and alternators with that in mind," says Jonathan Smith, Assistant Director of Sales and Marketing, Prestolite. "We know our products will consistently deliver long-lasting power you can count on."
The Leece-Neville PowerPro Extreme 10 starter, also commonly known as the Prestolite Electric M128 motor, was recently named "Best New Product" by the Genuine Parts Company (parent company of NAPA Auto Parts) Asia Pacific. This high-torque, high-output starter is precisely engineered to help increase starting power and efficiency, simplify preventative maintenance, increase vehicle uptime, and has been proven to provide service life two-to-three times that of comparable competitive starters. Features include:
24V, 10.5 kW starting power
Lightweight at 36 lbs. (16.5 kg)
Ambient operating temperature range of -40-125 C
Wet and dry clutch applications
Rotatable flange with radial bell housing seal
High-torque, planetary gear reduction
Application coverage includes Case, Caterpillar, Cummins, Hitachi, John Deere, Komatsu and MTU
Leece-Neville IdlePro Extreme alternators produce industry-best output through a high-amp, brushless design that extends battery life, increases vehicle uptime and provides maximum power under any conditions. Some features include:
24V, 250- and 275-amp outputs
Lightweight at 39 lbs. (17.7 kg)
Minimum of 90% of unit's rated maximum output (200+ amps) at engine idle speed (certain applications)
Auxiliary Draft Cooling design (certain applications) – special fan and front housing design and integration for temperature control of the front bearing, which is kept 10 C cooler compared to traditional external fan designs
Remote Sense capable to optimize output and increase battery life
Isolated Ground Technology – protects the engine from potential electrolytic damage by reducing stray voltage
Dual cable terminals (B+/B-) positioned laterally and axially, extending application and convenience
Operating temperature range of -40-125 C
Heavy duty housing design
Assembled in America