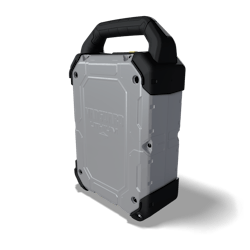 Briggs & Stratton Commercial Power

The Vanguard lithium-ion 48-volt, 1.5-kilowatt-hour commercial battery (Si1.5) is the latest innovation in Briggs & Stratton Lithium-Ion battery technology.
The exchangeable design of the 1.5-kWh Commercial Battery empowers users to swiftly swap freshly charged packs from application to application and is built to bring efficiency, versatility and reliability to users in multiple industries that require battery power. The integrated Battery Management System constantly measures the pack's voltage and temperature to ensure safe and efficient operations.
Designed, engineered and assembled in the U.S., this globally distributed product is backed by the Briggs & Stratton Dealer Network.
Request More Information
Fill out the form below to request more information about
1.5 Kilowatt-Hour Swappable Battery