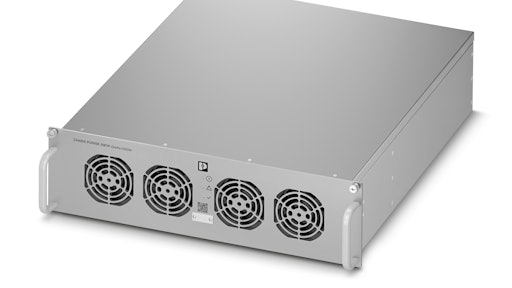 Phoenix Contact
Phoenix Contact has introduced a new category of power supplies for high-power systems, such as e-mobility infrastructure. The modules can be directly mounted in a standard 19-inch cabinet commonly used in EV charging stations. In addition to e-mobility applications, the CHARX AC/DC and DC/DC power modules are suitable for off-highway charging, AC microgrids, high-voltage DC grids, energy storage, and hydrogen electrolysis.
The three-phase input module has a range of 350 to 530 V AC, allowing installation in most locations globally. The DC/DC module has an input range of 300 to 825 V DC for use in numerous DC voltage settings. Both power modules have an output range from 150 to 1,000 V DC.
The DC/DC module has continuous maximum power point tracking (MPPT), which maximizes the output when connected to a solar array. This assists in the most efficient output for the device, with ranging levels of solar radiation, temperature, and PV panel types.
The modules' CAN bus interface makes them easy to integrate into e-mobility applications. They also feature Phoenix Contact's Push-Lock and T-LOX connection technologies for fast installation and maintenance.
Request More Information
Fill out the form below to request more information about
Phoenix Contact Introduces New 30-Kilowatt DC Power Modules