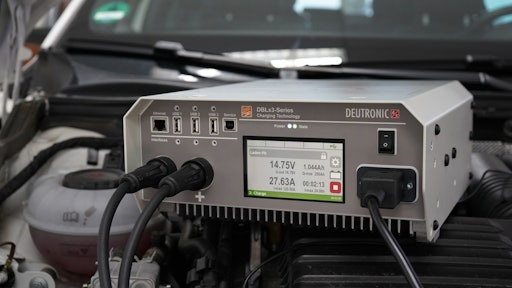 Deutronic USA
Deutronic has developed a new line of charging computers to supply reliable power to the 12V board net for EV or gas powered vehicles in multiple environments in the North American market.
At 120 amps, the DBL 1903-14 line is the highest capacity power supply available in the market. A single phase device with touchscreen controls, it is ideal for original equipment production line charging applications, assembly rework areas, and aftermarket dealer service and showroom environments. A unique automatic detection feature for OEM customers determines the connection to both lead-acid and lithium-ion batteries to deliver smart and safe charging to all vehicles.
According to the company, the DBL 1903-14 line represents the new generation of innovative battery chargers for use in manufacturing facilities and dealer service networks. It can also offer added value with smart networking and Industry 4.0 qualifications, helping OEMs improve their speed to market with products.
Other key features include a user friendly commissioning wizard and choice of 21 languages. Smart and safe charging or supplying output up to 120A is achieved through an automatic selection process between charging and FSV.
Suitable for lead-acid, gel, AGM, fleece and lithium-ion batteries, a clear selection menu is available for various charging programs: Pb, Li, FSV mode, and a PowerUp function with long-term charging for Pb/Li. Precise load detection guarantees the charger is switched on even at the lowest loads, and input ranges from 100-240VAC, with a permanent output current of 120A at 1900W.
Request More Information
Fill out the form below to request more information about
Deutronic USA Introduces Highest-Capacity Charging Computers for OEM & Aftermarket Needs