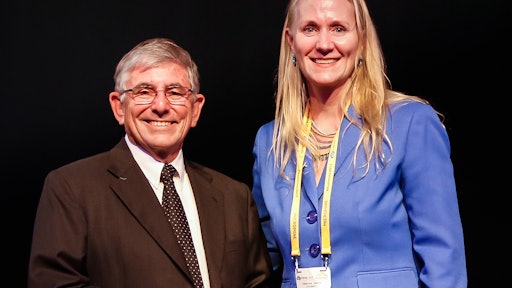 RCT's Founder Bob Muirhead was awarded Champion of Innovation for 2017 at the Austmine Industry Leader's Dinner and Awards Dinner held at the Perth Convention and Exhibition Centre recently.
The prestigious award is Austmine's acknowledgement of individuals who have pioneered and championed innovation to help make the mining industry what it is today, and it's safe to say Muirhead has played a big part in the journey throughout his illustrious career.
The Australian mining icon has been instrumental in driving mining safety and productivity through the development of innovative solutions including the Muirhead Smart Protection and ControlMaster remote control systems – both of which are highly regarded within the industry today.
Muirhead's career began in 1962 as an electrical fitting apprentice at the Great Boulder Mines on the Golden Mile before he started an electrical contracting business.
By 1972, Muirhead's focus was on creating systems and products for heavy-duty machines.
"Many of the machines on mine sites had poor electrical systems which would cause endless problems and result in unnecessary downtime," he says.
Muirhead saw the opportunity to improve systems and protect machines operating in harsh conditions and the Muirhead Smart Protection systems were created.
"They would have to be one of my favorite innovations to date; simply because it is where it all started," says Muirhead.
His focus soon shifted to encompass a broader range of products which saw the establishment of technology manufacturing business, RCT. Today, RCT has solutions spanning five industry proven brands that are distributed globally to improve mine production, safety and deliver overall measurable improvements.
Muirhead is well-known for undertaking any challenge with unwavering enthusiasm which is both contagious and inspiring to everyone he meets, including RCT's research and development team, which he is still actively involved with today.
The Champion of Innovation award has only been bestowed twice previously in Austmine's history and Muirhead was worthy of this recognition having devoted his life to innovating in the mining industry.
"It was a humbling experience to be recognized by others in the industry for something that has been a lifelong interest and passion," Muirhead says.
The modest award recipient added that the recognition was not just a reflection of his vision, but also of the talent, dedication and hard work of the entire RCT team.
During his acceptance speech, Muirhead also thanked his wife and acknowledged how instrumental Austmine has been in recognizing the value of the METS sector to the Australian economy.