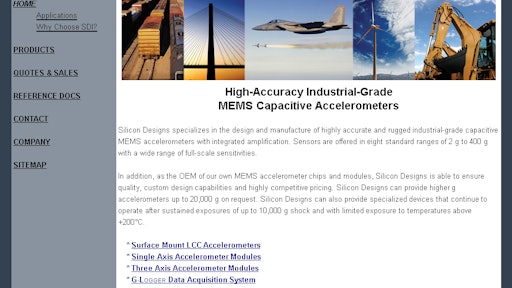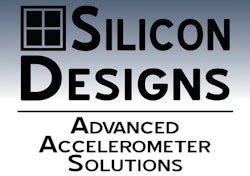 Silicon Designs, Inc., a global industry supplier of highly rugged industrial-grade MEMS capacitive accelerometer chips and modules with integral amplification, announces the redesign of its corporate website at www.silicondesigns.com, to include enhanced functionality, application content and ease of navigation. The goal of the redesign was to further educate existing and prospective customers about the benefits of MEMS capacitive accelerometer technology and its practical usage across a growing number of applications and markets.
With new navigational capabilities that are organized into focused, industry specific segments, a user can view pages by product technology type and application, including aerospace, automotive, energy, military (non-ITAR), transportation and manufacturing; or view a comparison chart of all available product technologies and their unique features and benefits. Each product page offers its own specification sheets, available for immediate download, as well as the opportunity to request a quotation or obtain more information about sales and distribution channels.
Silicon Designs accelerometers are available in ranges from 2 to 20K g, with most models operating in temperatures of up to 125 C. On-board voltage regulation and an internal voltage reference minimize temperature and voltage changes while eliminating additional external power regulation requirements. Carefully regulated manufacturing processes ensure that each sensor is made to be virtually identical, allowing users to swap out parts in the same g range with few to no testing modifications, saving time and resources. This also provides test engineers with a quick plug-and-play solution for almost any application, while maintaining total trust in sensor accuracy when used within published specifications. As the OEM of its own MEMS-based accelerometer chips and modules, Silicon Designs is able to ensure quality, offer custom design and still keep prices highly competitive. The company's product line offerings are used to support a wide range of equipment and applications, including: crash event detection, missile launch, downhole vibration, automobile development, race car instrumentation, shipping monitoring, wind turbine tip vibration monitoring, aircraft and UAV flutter testing and turbine engine precession. Additional applications include the monitoring of bridge structural integrity, hydroelectric power generators, automotive interior panels, HVAC systems, lighting and electrical systems, door assemblies and windows.
All Silicon Designs MEMS capacitive sensing technologies are made in the USA, with more than 300 designated models available to U.S. government customers at specially discounted rates under the GSA Advantage program.