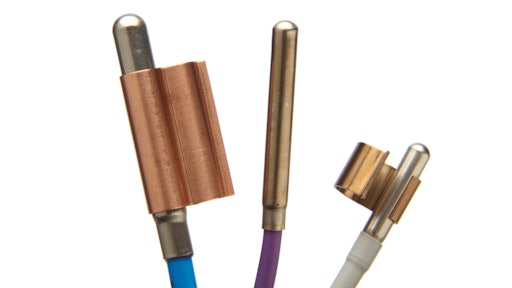 API Technologies Corp., a provider of electronic systems, subsystems, RF, and secure systems for defense, aerospace, and commercial applications, showcased its Spectrum Sensors line of advanced thermal sensors at Booth #3640 at the International Air-conditioning, Heating, and Refrigeration Exposition (AHR Expo 2012). AHR Expo 2012 took place January 23 to 25 at McCormick Place in Chicago.
"This year we will be highlighting our line of rugged temperature sensors which provide excellent thermal tracking in even the most daunting environments," says Larry Howanitz, Vice President, Spectrum Sensors Product Group of API Technologies. "They are ideal for high moisture applications when there is a continuous freeze/thaw cycle - such as HVAC, food and beverage, and refrigeration systems." These rugged sensors operate over a temperature range of -40 to 105 C.

The Spectrum Sensor line of rugged temperature sensors is available in both 1/4 in. O.D. and 3/16 in. O.D. tube sizes. They come in a wide variety of sensor curves and resistances (including thermistor and RTD), as well as in various cable lengths and terminations. These sensors can also be combined with clip sizes from 3/8 in. to 7/8 in. to create an easily mountable sensor for measuring temperature on straight or bent tubing.

In addition to its rugged temperature sensors, API will also showcase its full line of temperature sensing probes and assemblies for HVAC and refrigeration applications as well as PTC and NTC thermistor components.