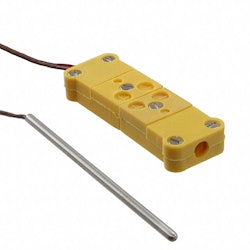 TE Connectivity Ltd. announces its integration with Analog Devices, Inc. (ADI) MeasureWare, a plug and play suite of hardware measurement kits and software studio tools to help fulfill the growing need for precision measurement across multiple industries including precision agriculture, machine health monitoring, electrochemistry and other areas requiring precise measurement. As a result of this integration, TE customers are able to quickly develop a precision sensor application – from prototype to production (SoC solution ADMW1001) – without the need for a deep understanding of precision analog or sensor design.   
ADI's MeasureWare solutions are built to interface devices with the world around them, allowing users to more effectively measure the datasets necessary to their respective projects, such as temperature, weight, humidity, pH, pressure, etc. MeasureWare also offers flexibility to adjust and change measurement parameters as a project evolves.
"We are excited about the integration of TE sensors with ADI's MeasureWare platform," says John Tuley, IoT Business Development – Sensor Solutions business. "MeasureWare combined with TE sensors enables our customers to quickly display precision sensor data on a cloud platform and focuses engineering time on end use case validation rather than hardware design."
Partnering with ADI's MeasureWare is part of TE Connectivity's ongoing efforts to provide design engineers, at any level, with best in class engineering support and tools to create new products for industrial, IoT, medical and commercial applications. 
TE has a number of sensors available to support the MeasureWare platform, with planned additions rolling out in the coming months.