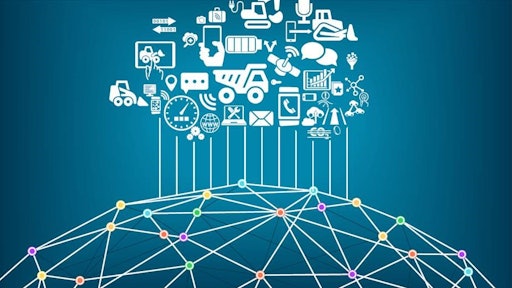 Machine connectivity through the use of telematics systems and mobile applications which allow operators to remotely control and monitor their equipment are just some of the ways manufacturers are putting the Internet of Things (IoT) to use within the heavy equipment industry. This enables them to provide solutions to increase customers' productivity, as well as monitor their own products to improve service and future iterations.
With the Industrial Internet of Things (IIoT), companies are employing IoT technologies to improve their own productivity and efficiency from both a design and manufacturing perspective.
Companies note that customers understanding the benefits of IoT technologies and how best to utilize them are among the key challenges associated with expanding their adoption in various industries. In addition, the lack of broadband internet for more remotely located customers poses a challenge. However, with the unlimited amount of possibilities available through the use of IoT technologies, manufacturers see it as a key area in which to continue expanding their development efforts.
How is your company approaching the IIoT and implementing it into the company's day-to-day operations?
Peggy Gulick, Director Business Process Improvement (Jackson Operations), AGCO Corp.
From a manufacturing standpoint, AGCO is leading the way in use of IoT in our factories. We were recently recognized with a 2016 Manufacturing Leadership Award in the Internet of Things category for our use of Google Glass on the production floor.
At the Jackson Operations in Jackson, MN, they focus on the collaboration between humans, machines and products. The use of smart watches, ring scanners, tablets, Google Glass and smart andons allows the plant to focus on quality, safety, productivity, and in the end, happy customers.
Dan Ricklefs, Vice President of Global Marketing for Danfoss Power Solutions
By any name, we see this field as a tremendous opportunity for our company, the industry and ultimately the end users of the equipment in which our products are used. The possibilities to provide additional value increase exponentially as we move from a focus on products to subsystems, vehicle systems and even fleet or jobsite ecosystems. Operationally, this evolution is really just starting. We have worked with system and application data in control systems for many years. Adding data storage, connectivity and cloud features to the equation are some of the enabling technologies we have been working on in our portfolio. There's much more to do.
Ivan Di Federico, Topcon Positioning Group Chief Strategy Officer and Chairman of Topcon Agriculture
It is part and parcel to everything we do. Topcon embraces the philosophy of the IIoT by integrating it into virtually every phase of the solutions we provide to the marketplace. Whether it is construction, survey, or agriculture products — interconnected smart technology is both central to how we engineer our solutions and their functionality in the hands of our customers.
Arjun Mirdha, President & CEO of JCB North America
Our LiveLink Technology is built standard into most JCB machines at this point. JCB has a LiveLink center that tracks all machines subscribed to the service and monitors their use. Customers can monitor their fleet as well and download reports on their cellular phones or computers. The LiveLink data center shares data with our field-based service teams to assign work and locate machines in need of preventive maintenance or repair. It helps us be more efficient in servicing our customers.
What opportunities are you seeing and challenges are you facing in regards to the IIoT?
Matt Rushing, Vice President, Global ATS Product Line, AGCO Corp.
The IoF (Internet of Farming) is a great way to understand what telematics in agriculture can do to improve a farm operation, and we're doing it today. Smart, connected machines capture detailed information about every field operation, from field prep to harvest, and send the data to the farm's back office software, agronomist or other trusted service providers where analysis is performed and insights are derived. Decisions are made based on the insights. Logistics improvements, operator training opportunities and machine health practices are implemented, and those same smart machines then execute precise field operations resulting in improved productivity across the farm.
Certainly adoption is a key challenge as with any new technology; the few early adopters demonstrate the value and as the benefits become more widely known, we expect to see broader adoption.
So, as these new technologies demonstrate their effectiveness in both big and small operations, we expect to see more and more farms adopt them. We're already seeing a proliferation of manufacturers and technology providers. It's not always clear for farmers what technologies they need, or how best to harness the power of their data. This can lead to confusion and concern in terms of how their data is handled and who can see it. An opportunity now is to promote transparency within the precision agriculture industry. AGCO is a leader of the growing effort among key industry players to help farmers understand their data and how to manage it. In the years to come we also expect some of the providers to consolidate and merge, simplifying the landscape and farmers' decisions about which providers to use for which technology.
The availability of broadband is increasing, but in some parts of the world this can be a barrier too.
Ricklefs: Some of the more obvious use cases, such as remote machine connectivity for diagnostics, are fairly easy to recognize and implement. There are some challenges even here as vehicle subsystems may be controlled in different architectures. Data formats don't always match, and bus networks don't always communicate. Connectivity technologies can also be relatively expensive or unreliable in more remote areas where we find many of our applications. Even more fundamental is that the business model of a connected machine may not always be obvious. Can the extra cost generate enough benefit for the supplier, the OEM, the user? It's an equation that doesn't always have an obvious answer. But moving beyond that to a world where we can connect and analyze data from many systems, applications and vehicle types to find ways to optimize performance, the challenges multiply quickly. For example, how much data do we really need to move to the cloud to be able to model performance? How do we analyze rather unstructured data? Is there proper security in our architecture? Fortunately, we are not the only industry looking for answers to these types of questions.
Di Federico: The opportunities are seemingly limitless. The power of IIoT provides comprehensive planning, process control, workflow monitoring and extensive reporting that will bring our customers the full advantages of connectivity. The challenges, as with most innovation, have mostly to do with adoption. Once the customers have an opportunity to see first-hand how the solutions we provide make them more efficient, the concept of IIoT makes perfect sense. The advanced productivity means undeniable higher profits for their businesses.
Is the general Internet of Things (IoT) playing a role in your company's product designs? If so, how? And if not, do you anticipate it will at some point in the future?
Rushing: Absolutely – AGCO's Fuse strategy is [a] global initiative to produce equipment and tools that will help growers increase their production of food, fuel and fiber globally. Fuse helps drive AGCO's product development across our platforms (tractors, harvesting and crop care equipment) and heavily influences investment in engineering and IT. We expect this investment and focus on farm optimization to continue to grow.
Ricklefs: We are continuing to develop our PLUS+1 control system platform, which offers telematics solutions that connect to vehicle systems in the field. We have also focused on providing flexible, cloud-based solutions that are easy to implement. This enables our OEM customers to focus on the use cases that add the most value to their particular situation without having to invest in the expertise or infrastructure required to make IoT work. We are able to provide easy access to almost any data that exists in the control system. Within hydraulic systems we continue to look for useful and robust data sources, including sensors that can add value in this environment. In our application development centers we are using this data to create better application solutions, and monitor and optimize their performance in the real world. It's difficult to find an area that hasn't been impacted in some manner, but we're still in the early phases of realizing the full potential.
Di Federico: We absolutely design our solutions with IoT top of mind. Our latest software systems such as MAGNET 4.0 provide real-time connected support for hardware as well as integration with our Sitelink3D service for instant data transfer and connectivity into active project sites. Additionally, Sitelink3D allows customers to plan, schedule, assign tasks and get reports, all in real time. The Web-based access allows them to manage jobs from anywhere. When practically any new product is designed, integration with these solutions is standard and expected procedure for Topcon.
Mirdha: Yes in short, all machines are now designed with sensors that allow us to capture and transmit data so that we can better serve our customers and help them run a more efficient business. Technology integration is always considered during the development of new products.
What potential benefits or opportunities are available by implementing IoT technologies within your products?
Rushing: With our telemetry product, AgCommand, enabling Fuse Connected Services, growers can realize a wide range of benefits that all boil down to time and cost savings, and increased yield. These are derived through optimizing machine health and performance, improved machine resale value, input cost reduction, streamlined logistics, reduced waste, reduced downtime and maximized uptime. On AGCO's side, being able to understand with more accuracy how the machines are being used in the field, and understanding where machine challenges are occurring helps us to build better machines.
Di Federico: Our smart and connected solutions enable comprehensive monitoring of conditions, operations and environment through sensors and data, which means monitoring knows no boundaries. Assets can be monitored from everywhere, wherever the customer happens to physically be. It enables real-time control of assets that can be customized based on needs and priorities. We call it "descriptive, predictive and prescriptive" analytics. The result for customers is higher productivity, less downtime and waste, and ultimately more profitability combined with less stress.