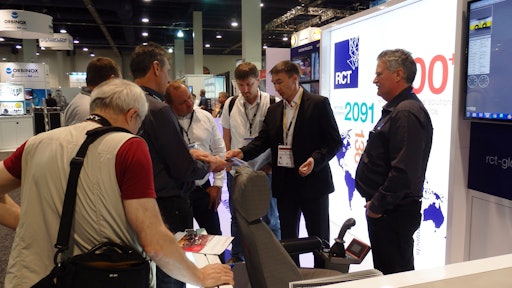 About 40,000 people from more than 130 countries converged onto the Las Vegas Convention Center to attend the premier world mining event –
MINExpo 2016
. With more than 3,000 exhibitors, spanning from 37 countries setting up over 840 sq. m of sold-out exhibit space, there was plenty for people to do and see throughout the event.
The theme of this year's quadrennial event was solutions - solutions that make it possible for the mining industry to meet the challenges and capitalize on the opportunities in a rapidly changing world. And RCT certainly delivered, showcasing its extensive range of innovative technologies impacting the bottom line of mining companies.
The RCT team deemed the 2016 edition of MINExpo a roaring success, describing the event as "by far the best expo or event they have ever attended."
This was due to a number of factors, including the attendees – all of who were the decision makers from various companies in the industry. "The quality of the engagements was much higher than any other event I have attended previously," says RCT's Executive Director and CEO Brett White.
Having been active in the mining industry on a global scale for more than 40 years, RCT was well-recognized; therefore the focus was on the recent establishment of the new Salt Lake City office in the US and MINExpo provided the ideal platform for further exposure into the Americas.
"The discussion about our new office also led on to talking about our worldwide expansion and our commitment to support our customers on a local level," says White.
The large amount of interest generated by RCT's custom-designed booth in the South Hall of the exhibition made for an action-packed three days with RCT representatives speaking to hundreds of attendees a day.
The ControlMaster Guidance simulator was of particular interest, with many jumping in the driver's seat to experience RCT's Smart Technology first-hand.
"The Guidance simulator was a great tool to showcase our technology, it gave people a real insight into how our technology works on a mine site," says White.
"It was a great talking point, with many people stopping to view the simulator in action and ask questions," he says.
While the simulator and well-lit display drew a continuous crowd, it was RCT's extensive offer that made the booth stand out.
"RCT provides the industry with numerous proven solutions. We are the one-stop-shop for the mining industry and this was conveyed by our stand which showcased automation, data management, and our custom division and protection systems," he says.
Visitors from all around the world showed great interest in RCT's extensive offer throughout the duration of the event. "If we weren't already on attendees radars, I'm confident that we are now," White says.
"MINExpo was a huge success for the RCT team! We are an innovative technology company and the industry is looking to embrace our technology now more than ever in order to increase efficiency and safety."
Plans are already underway to participate in the next MINExpo in 2020.
"If there is one expo to attend it is definitely MINExpo! It puts us on the centre stage to global customers."