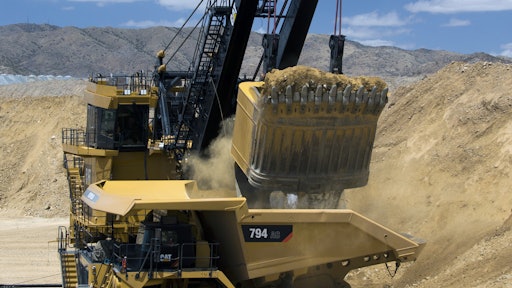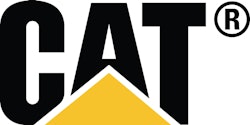 Caterpillar will support MINExpo 2016 with an exhibit showcasing machines, technology, expertise and practical knowledge that miners can apply to help address their cost, productivity and efficiency challenges in today's mining environment.
Though Cat machines—for both surface and underground mining—will fill the view, the talk will focus on how Cat technology and know-how combines to help mining operations address and solve the issues that are most important to them. The main stage in the exhibit will feature presentations describing how mining companies, Cat dealers and Caterpillar work together to improve operations.
"The challenge for all in the mining industry now is to optimize operations—to drive costs down while creating sustainable businesses that can weather downturns," says Caterpillar Resource Industries Group President Denise Johnson. "We believe that through our expertise and the knowledge of our dealers—combined with innovative technologies and our growing data analysis capabilities—we can help them not only survive, but thrive in these challenging times."
Johnson was recently selected by the National Mining Association (NMA) to chair MINExpo 2016. "Chairing this show is a great honor, and it's a testament to Caterpillar's partnership with this critical industry," she says. "We're proud to be a long-time supporter of the NMA, and we are excited to participate in another MINExpo. It's an opportunity for us all to learn from each other how to increase productivity, control costs and improve overall operations."
Surface mining displays
The surface mining section of the Caterpillar exhibit will showcase two highly automated machines. A Cat 793F CMD autonomous truck will represent the fleets now operating in Australia. Cat Command for hauling is now a commercial success as fleets grow and the benefits of consistent operation and increased availability boost production.
The new MD6420C Rotary Drill is autonomy ready and optionally equipped to leverage the safety and productivity benefits of Cat MineStar Terrain. This high-precision drill management system optimizes utilization and improves drilling and blasting operations by accurately guiding the operator and improving precision of hole placement and drilling depth—and the next step is fully autonomous operation, Command for drilling. The third-generation drill incorporates proven Cat components throughout for superior reliability and durability.
Additionally, the 794 AC Large Mining Truck will make its first mining show appearance. Featuring the same electric drive powertrain as the proven Cat 795F AC, the 291-tonne (320-ton) capacity truck delivers class-leading speed on grade, superior four-corner braking and easier maintenance. The truck design focuses on class-leading productivity and lower total cost of ownership.
The 6020B Hydraulic Mining Shovel represents the popular, versatility class of Cat shovels. The next-generation Cat shovel is a clean-sheet design that features a 22 tonne (24 ton) payload and 224 tonne (247 ton) operating weight and teams with the Cat 777G Off-Highway Truck for optimized loading and hauling.
Completing the surface mining display are the 994K Wheel Loader, Caterpillar's largest wheel loader, as well as support equipment such as the recently introduced 18M3 Motor Grader. The next generation 3516E engine highlights Cat engine and aftermarket offerings. A D10T2 Dozer on display features Command for dozing, the remote control and guidance system that is part of Cat MineStar System.
An adjacent display presents a comprehensive view of the Cat MineStar System, with capabilities ranging from machine health monitoring and data management to fully autonomous control—all designed to drive efficiency up and cost-per-ton down.
Underground mining displays
The underground section of the Caterpillar exhibit will demonstrate the company's commitment to underground mining through its presentation of machines and technology for hard rock and soft rock mining—room and pillar, longwall and hard rock cutting.
The hard rock cutting display features a wholly new underground mining approach, longwall for hard rock mining. The recently announced Rock Straight System is a fully mechanized longwall system designed for continuous mining of flat and tabular deposits and reefs in hard rock mines. The key to the system is the cutting machine, which makes best use of unique Cat Activated Undercutting Technology specifically developed for the extraction of bedded hard rock deposits. Rock Straight also includes a specially designed chain conveyor and hydraulic roof supports.
For coal and other soft rock miners, Caterpillar will display a new drive system for longwall face conveyors. The precision engineered system has a smaller footprint and enables slower motor speeds while delivering more torque. At the same time, the system modulates power application to reduce mechanical stresses on the chain conveyor. The result is less wear, greater uptime and higher productivity.
The underground display also introduces the R1700K underground loader (LHD). The new model features multiple systems enhancements, a new cab with enhanced ergonomics, and emissions reduction technology that meets US EPA Tier 4 Final and EU Stage IV certification requirements. Complementing the R1700K are new ground engaging tools for LHDs and a simulator demonstrating Command for underground, the Cat system for remote and semi-autonomous operation of LHDs.
More than machines
In addition to displays of its surface and underground mining equipment, Caterpillar will dedicate areas to technology, data analytics, equipment life-cycle management and the global Cat dealer network.
"At our core, we're committed to making quality products that are safe and reliable," says Johnson. "But we also recognize that the step-change results our customers need don't rely solely on the machines. In the 'age of smart iron' it's technology, data and automation that will be the game-changer. And when we combine this with a focus on site performance, analytics and knowledge-partnering with our customers, we'll deliver the sustainable efficiencies our customers need today, and in the future."
For more details about the full line of Cat mining products and services, visit Caterpillar at booth 6229 in the Central Hall during MINExpo 2016, September 26-28, at the Las Vegas Convention Center.