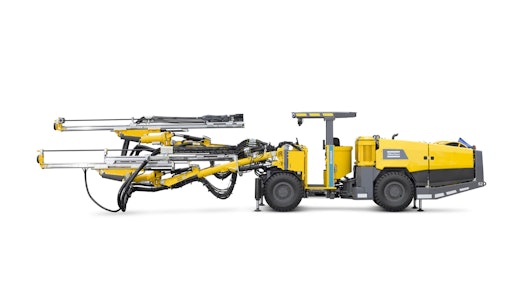 Atlas Copco unveiled the Boomer S2 at MINExpo September 26 in Las Vegas. The Boomer S2 is the first automated drill in its segment and still very robust.
Boomer S2 is the company's smallest mining and tunneling rig with intelligent control, now tougher and smarter than ever. All aspects of the rig, from the rock drill to the carrier have been improved.
Boomer S2 is a 2-boom face drilling rig ideal for mine development and smaller construction tunnels. Boomer S2 is a safe rig with optimized productivity also keeping the running costs to a minimum. The cabin is ROPS- and FOPS-certified meaning that operator environment is safe and the rig is design so that all service can be done from ground level.
The drill rig is equipped with the new COP MD20 rock drill, which has been designed with robustness and durability in mind. Atlas Copco's dampening technology helps improving the drill steel economy. Combined with a recommended service interval of 1000 impact hours, more uptime, increased productivity and lower running costs are achieved.