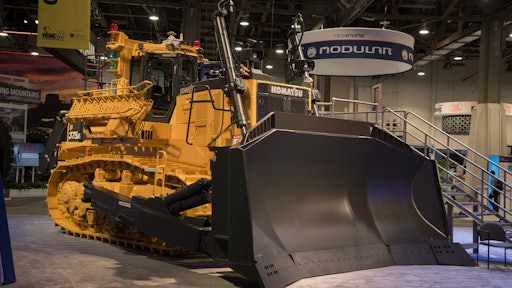 Komatsu America Corp., a leading global heavy equipment manufacturer, previewed the new 636 hp, D375Ai-8 intelligent machine control crawler dozer at MINExpo.
Featuring more production and faster cycle times, including 20% more horsepower in reverse than the prior model, the first mining-class dozer equipped with intelligent machine control also comes with structural enhancements for increased durability of mainframe and track frame. The D375Ai-8 also features improved undercarriage, cab mounts and seat, for overall operator comfort. In 2017, a remote-control machine option will be available for difficult applications.
Whether its reclamation, large construction or production mining applications, the D375Ai-8 is the right machine for the job, says Joe Sollitt, Product Manager, Komatsu America. "Between the extra horsepower and the addition of intelligent machine control, this will be one of the most productive machines on the market," Sollitt says.
"Operators are empowered with more data and more automated capabilities than ever before in a mining-class Komatsu dozer," says Jason Anetsberger, Senior Product Manager, Komatsu America. "Extending the benefits demonstrated with intelligent dozers in the smaller construction-size classes to mining applications will mean bigger machines can produce even bigger results for our customers."
Intelligent Value
Eliminating the need to install and remove blade-mounted sensors each day not only saves on machine and operator wear and tear, it converts potential downtime into more time spent running the machine.
First-to-last pass, rough-to-finish automatic dozing extends production gains. Once engaged, the system automatically cuts and lowers the blade to grade in a typical dozing pass. If the load increases to a maximum, the blade automatically raises to minimize track slip to keep dozing productively.
Under The Hood
A powerful, Tier 4 Final, 636 hp in forward and class-leading 775 hp in reverse, SAA6D170E engine that offers faster cycle times and up to 5% more productivity than the prior model.
No Selective Catalytic Reduction (SCR) system needed.
Komatsu Variable Geometry Turbocharger (VGT).
Dual Komatsu Diesel Particulate Filters (KDPFs).
Large capacity and high efficiency EGR coolers.
Komatsu Closed Crankcase Ventilation (KCCV) filter.
Machine Performance Enhancements
Machine guidance and fully integrated blade control available from the factory in 2017.
Remote control option available from the factory in 2017.
Undercarriage enhancements drastically improve machine travel.
Structural enhancements of track frame and mainframe increase life.
New single link blade support and larger trunnion reduces maintenance and increases blade stiffness.
Other noteworthy features on the D375Ai-8 crawler dozer:
New optional hydraulic ladder.
Wrap-around rear platform.
Engine access doors swing forward not upward.
Swing-out radiator fan and Mesabi radiator simplifies cleaning and maintenance.
Larger cab mounts with more vertical stroke and shock absorption.
New heated/ventilated operators seat with improved suspension and cushioning.
All new, large capacity, automatic air conditioner and improved pressurization.
Cab layout modification to improve ergonomics and overall operator comfort.
Improved visibility to the work equipment.