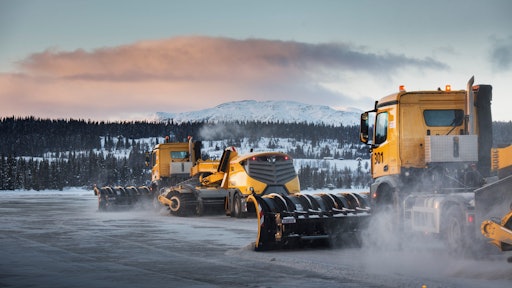 Yeti Move
Husqvarna Group has increased its ownership in Yeti Move, a software solution provider which is providing an autonomous platform to airports and other industries. The Yeti system is sold and currently under commissioning at both Oslo and Stockholm airport for snow clearing operations. Combined with other solutions from the Husqvarna Group, including robotic mowers, the aim is to provide operators with a comprehensive autonomous solution for all seasons.
Husqvarna Ventures, a part of Husqvarna Group, invests in strategically relevant start-up companies, and became an equal partner in Yeti in 2019, together with the original investors; Semcon and Øveraasen. Husqvarna has now acquired Semcon's shares in addition to providing new equity financing of 35m NOK to increase its ownership to over 80% in the joint venture. Semcon will continue to be a partner for Yeti Move in the development of autonomous solutions.
"At Husqvarna, we have been re-inventing ourselves for more than 330 years and we see this as an excellent opportunity to expand into adjacent areas. With Yeti we continue to develop our autonomous solutions in line with our strategy to deliver more value adding services for our customers" says Claes Pihl, Vice President, Research, Development & Innovation.
With customers including Avinor and Swedavia, Yeti is the first in the world to operate autonomous snow clearance systems in a live airport environment, enhancing safety, lowering costs and reducing operational disruptions.
Yeti's solution is a cloud-based one developed for snow clearing in collaboration with the Norwegian airport operator Avinor and Øveraasen. The solution aims to increase efficiency and reduce delays at airports and launched its first full-scale pilot in March 2018 at Fagernes Airport in Norway. The solution has been under development and testing for several years and the two first projects was sold to Swedavia and Avinor. The system will operate a swarm of autonomous snow clearing vehicles.