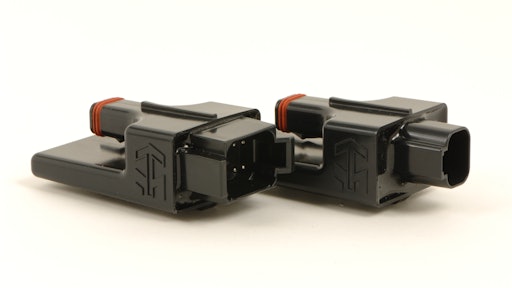 HydraForce has released two economical and efficient proportional valve drivers—the ExDR-0101A, a single output proportional driver with serial communications for configuration, and the ExDR-0201A, a dual output driver with SAE J1939 CAN communications.
Work as economical stand-alone units or in distributed CAN systems
Single or dual output control
Reliable operation outdoors; can tolerate extreme temperature, vibration and moisture
Accept a variety of inputs and CAN messages to control a proportional valve to a user-defined metering profile
Feature compact on-valve mounting with integrated Deutsch DT-Series connectors for an IP rating of 69K
CE qualified
Built-in diagnostics detect fault conditions in the input or output signals and automatically deactivate the output until the condition is corrected
LED indicator(s) communicate output state or error conditions
Configurable through HF-Impulse, a free, easy-to-use software tool available for download at www.hydraforce.com/electronics which sets all parameters for operation and can also flash the driver with firmware updates
Multiple personalities are available for each driver. General purpose drivers EVDR-0101A and EVDR-0201A drive one or two coil outputs with a user-defined metering profile featuring up to three breakpoints, and independent input/output ramps. The 0201A version can operate as a slave, responding to CAN messages.
Time-based proportional drivers ETDR-0101A and ETDR-0201A use a digital input to trigger the ramping sequence
Proportional reversing fan control EFDR-0201A modulates fan speed based on input from a temperature sensor, or CAN messages from the engine control module. The second output controls a reversing function to periodically clean debris from the vehicle's radiator.
Request More Information
Fill out the form below to request more information about
EXDR Valve Drivers