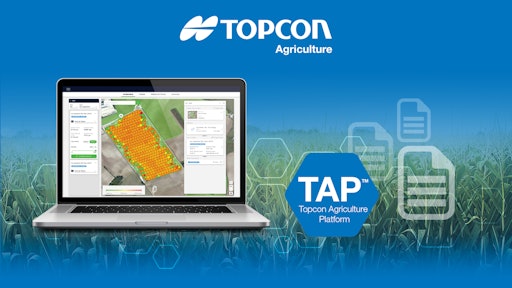 Topcon Agriculture introduces an IoT Farm Management Information System (FMIS) application for data analytics and visualization, which is designed to leverage existing Topcon hardware to help make farm data analytics easier to use. 
"The FMIS application offers advanced product documentation, traceability and connectivity to help farmers become more profitable and leverage their investment in existing equipment," says Fabio Isaia, CEO of Topcon Agriculture.
The cloud-based platform is designed to offer a centralized hub or repository for both machine and agronomic data to enable data sharing and improve transactional traceability. 
Isaia says, "Customers can easily store and share their data with agronomists, crop consultants and trusted advisors. The Topcon Agriculture IoT platform (TAP) applications allow the user to plan, create and design prescription maps utilizing data previously gathered in the FMIS application.
"TAP allows the grower to easily visualize and review in field data at the touch of a button. The result is improved operational efficiency and productivity from both machines and activities in an easy-to-use format, developed from our years of experience in serving professional farmers from around the globe," he says.