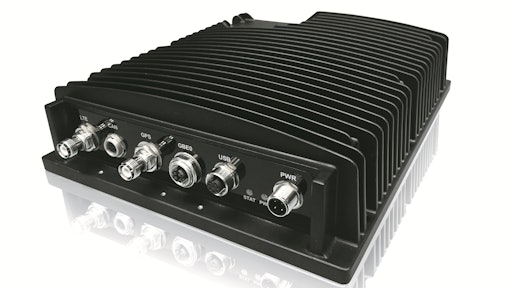 Kontron, a leading global provider of IoT/Embedded Computing Technology (ECT), announces that its EvoTRAC G102 In-Vehicle Rugged Cellular Gateway is designed into Hyliion's intelligent electric hybrid system for Class 8 trucks and trailers. Hyliion is gaining recognition as an innovative developer of electrification solutions that hold the potential to transform the commercial trucking industry. The Hyliion 6X4HE uses its patented hybrid electrification design to deliver fuel savings, lower emissions and a better driver experience. Kontron's EvoTRAC G102 was selected based on its rugged, small form factor and advanced computing performance features. Functioning in the 6X4HE system as the electric control unit, the EvoTRAC G102 provides enhanced connectivity and data processing capabilities for braking energy storage management.
The Hyliion 6X4HE is a self-contained system that can be easily installed and attached to a new or retrofitted truck/trailer frame. It uses a breakthrough regenerative braking design to capture power allowing the system to provide fuel savings of up to 30%. Already tested by multiple transport and trucking companies, Hyliion plans to ramp production to satisfy initial customer orders this year.
"Working with Kontron, our Hyliion engineers got the latest computing performance and connectivity capabilities in a compact and rugged platform that aided in our breakthrough design," says Thomas Healy, Hyliion CEO and founder. "We also have a control unit that can grow capabilities with us allowing us to expand the features we know are most in demand by our customers."
"Designed for ultra-rugged operation, the EvoTRAC G102 has been tested for use in extreme conditions making it an optimal and flexible solution Hyliion could deploy in any harsh environment location on the truck or trailer," says Valentin Scinteie, Transportation Business Development Manager at Kontron, "It is gratifying to see our technology put to work in such a creative and viable solution that offers instaneous operational efficiency benefits."
Using the low-power performance of 4th generation Intel Atom processors (quad core at 1.91 GHz) on Kontron's hardened Type 6 COM Express COMe E3845 CPU module, the EvoTRAC G102 employs a ruggedized Carrier Board and is packaged in a natural convection, sealed IP67 enclosure. This small form-factor computer offers advanced connectivity through its Gigabit Ethernet (GbE) and single CAN bus interfaces that support 2.0 A and B, two USB 2.0 interfaces, and 3G/4G LTE Modem with GPS and remote out antenna for cellular wireless connectivity.
The EvoTRAC G102 offers additional functionality that Hyliion intends to leverage in future designs with expansion options for IoT, telematics and sensor data tracking. Kontron will showcase the EvoTRAC G102 and its entire line of proven in-vehicle and transportation computing platforms at ITS America 2018, June 4-7 in Kontron Booth #621.