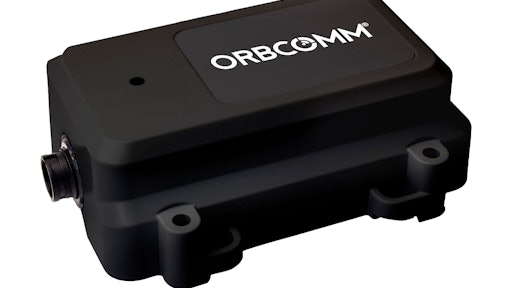 This year's bauma appearance of the leading international provider of M2M and IoT solutions is dominated by the increasing digitalization of heavy construction machinery and mining equipment – especially with regard to predictive analysis and maintenance. ORBCOMM will be presenting three highlights with which companies can not only reliably track, control and monitor their stationary and mobile systems, but also enable predictive maintenance by simultaneously recording and evaluating a larger number of data points. The FleetEdge telematics solution now supports the AEMP 2.0/ISO-15143-3 telematics standard (Association of Equipment Management Professionals). Mixed fleets can now more easily manage equipment, seeing the same information across 19 different data points from all OEMs that support AEMP 2.0.
ORBCOMM will also present new versions of the extremely rugged GT 1020 and PT 7000 tracking and monitoring devices. On the hardware side, they ensure simpler handling, a wider range of functions and improved accessibility thanks to extended receive/transmit protocol support via cellular and satellite.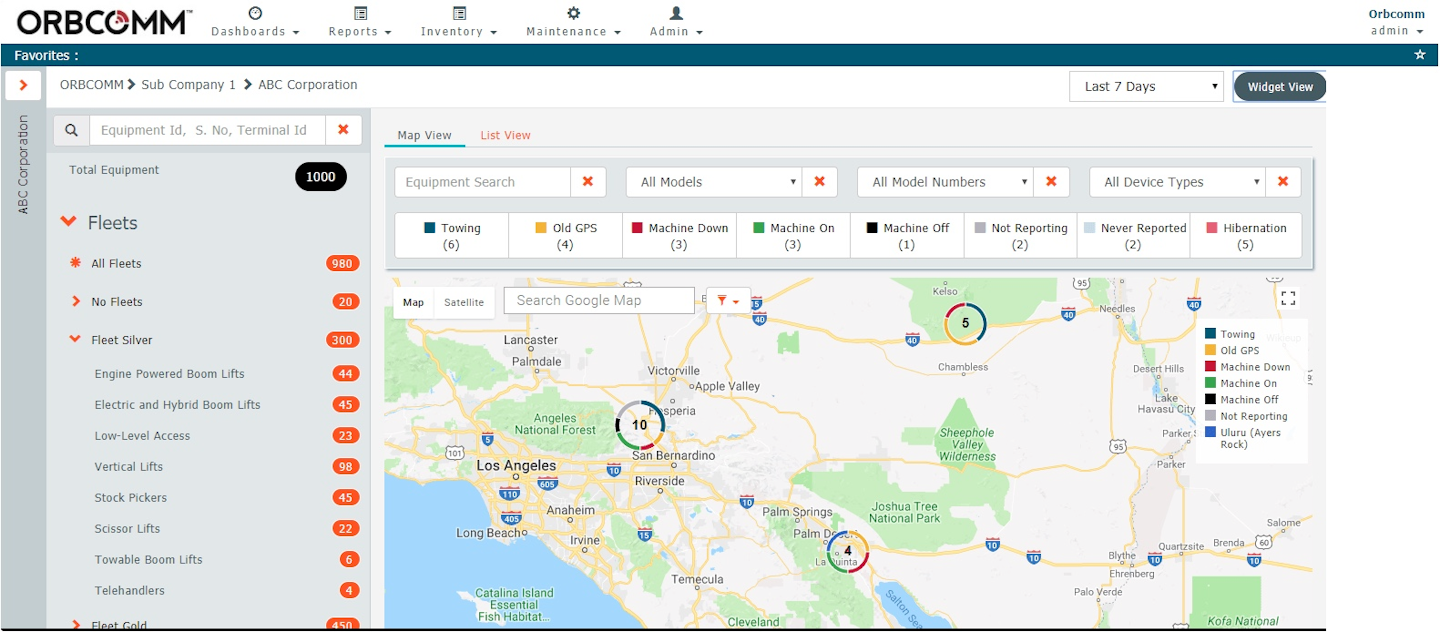 Robust map features including machine states and quick filters.
FleetEdge: More Data Points and Sophisticated Analysis with AEMP 2.0
The new version of ORBCOMM's heavy equipment telematics solution FleetEdge now supports the Association of Equipment Management Professionals (AEMP) 2.0/ISO-15143-3 telematics standard. AEMP 2.0 replaces the AEMP 1.0 telematics standard, which only maps the four data points of plant identification, location, operating hours/kilometers and fuel consumption within mixed fleets. FleetEdge's new version now captures and processes 19 specific data points and numerous error codes, such as engine temperature, fuel level, idle times and average power shares. This allows companies to aggregate a much broader base of different telematics data, which they can use for functional tracking and control as well as predictive maintenance. In addition, the combination of telematics data with logistics or operating data offers further process optimization possibilities, for example through balanced machine utilization planning or adapted deployment of driving or technical personnel. "FleetEdge enables heavy equipment operators to manage their entire fleet efficiently, regardless of the OEM, by providing comprehensive, up-to-date and secure access to location data, operating status, analysis, forecasting and diagnostic tools," says Sue Rutherford, Vice President of Marketing, ORBCOMM. FleetEdge is also available as a mobile management app.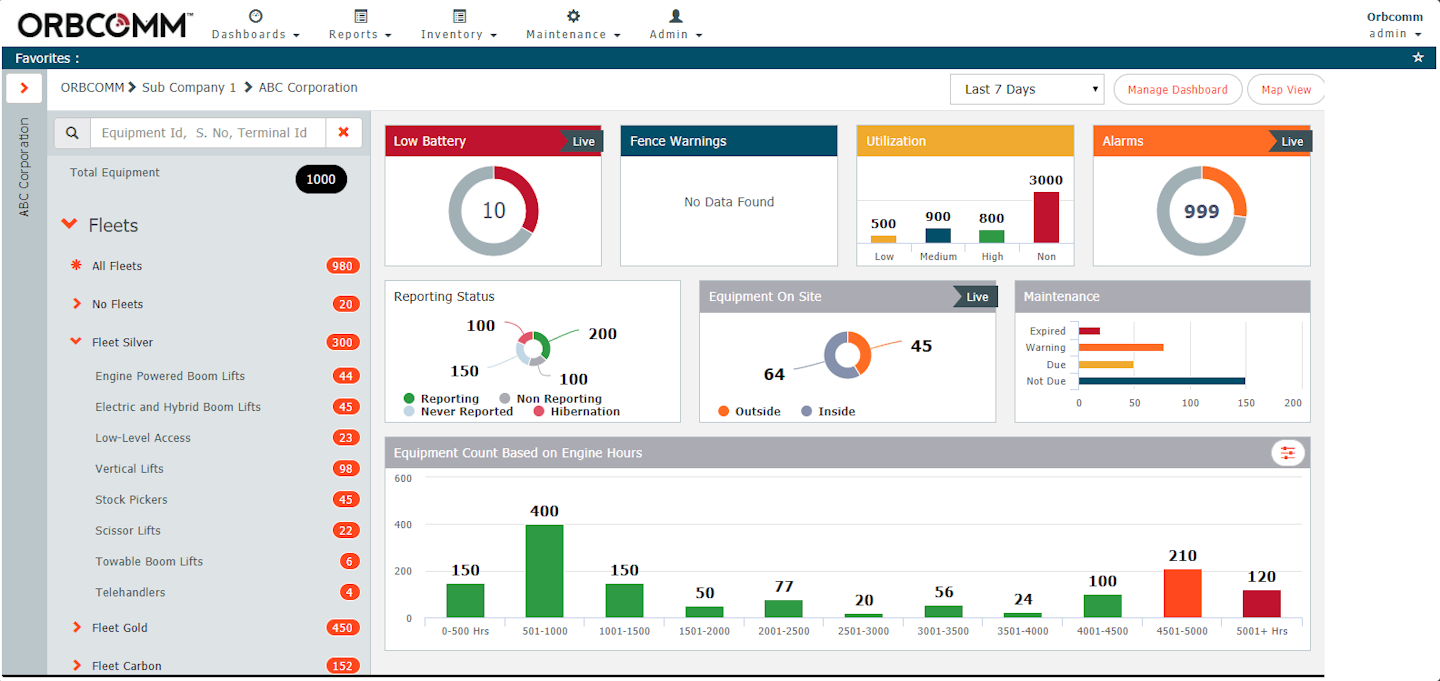 Actionable data represented by Customizable Widget Dashboard.GT 1020: Complete real-time asset tracking and monitoring even in harsh environments
The compact, robust and energy-efficient device GT 1020 is specially designed for use on heavy vehicles and equipment. It withstands extreme weather and environmental conditions such as dust, water, shock and vibration. This ensures uninterrupted connections and constant operation. Equipped with integrated mobile radio and GPS antennas, it is not only quick and easy to assemble and disassemble, but can also be precisely located via the LTE mobile radio network with 3G/2G fallback. For example, cost-intensive downtimes can be reduced and suitable trailer frames can be found more quickly for follow-up orders. Thanks to its small size, it can also be discreetly installed on smaller vehicles and equipment to prevent theft and tampering. The permanently installed rechargeable battery, which allows reporting for up to nine months without an external power supply depending on the reporting frequency, helps in this respect. As a turnkey solution, the device is available with ORBCOMM's FleetEdge Management Portal. APIs and integration tools are also available to facilitate integration with proprietary or third-party applications.
PT 7000: LTE support for faster communication
The PT 7000 rugged heavy equipment tracking and monitoring device is highly valued worldwide for its mobile and dual mode operation in the construction and mining industries, even in the most remote areas. The powerful powerhouse now also supports the LTE (Long Term Evolution, 4G) mobile radio standard cellular, with optional satellite capability. This means that real-time tracking and control of a wide range of construction machines of all types and sizes is now not only faster, but also more convenient and multifaceted than before. The reason: Due to the significantly higher transmission rates, more information can be retrieved, collected and processed than before. In this way, the exact position and status information can be transmitted in just as differentiated a manner as important operational key figures. Like the GT 1020, the PT 7000 also supports the FleetEdge management portal.