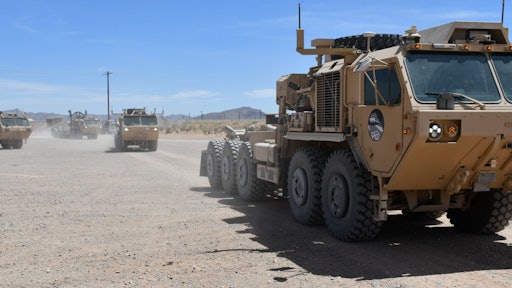 U.S. Army
GS Engineering was recently awarded a contract to supply vehicle kits of its Automatic Terrain Detection System (ATDS) to the U.S. Army Combat Capabilities Development Command (CCDC) Ground Vehicle Systems Center (GVSC) in Warren, MI. The systems will be integrated into vehicles that are part of the Autonomous Ground Resupply (AGR) program. The AGR program provides the ability to automate and optimize the movement, tracking and management of supplies.
The Automatic Terrain Detection System is a critical vehicle system that monitors the state of the terrain for firmness and roughness and provides a prediction of the terrain state to vehicle via the onboard data bus. This is possible via the custom designed and built sensors and vehicle specific algorithms to optimize mobility. In the AGR vehicles, ATDS replaces the senses of the operator in the unmanned follower vehicles, while in the manned leader vehicles; ATDS automates the mobility systems to allow the operator to focus on mission critical roles.
"I'm extremely proud of our team's commitment to innovating new technologies that realize true value to the men and women serving our country," said Jim Vendlinski, Vice President of Engineering, Technology and Innovation at GS Engineering.