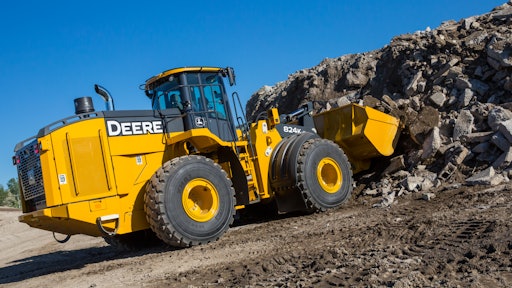 Telogis
Telematics systems have become almost ubiquitous within the heavy equipment industry, providing operators with a wealth of knowledge about machine performance and health. While systems are available directly from a telematics provider, many OEMs have begun partnering with these suppliers to integrate their technologies into equipment at the factory level.
Doing so enables an OEM to differentiate itself from the competition, says Willy Schlacks, President and co-founder of EquipmentShare – a construction technology company focused on helping contractors and heavy equipment owners increase the utilization of their assets. "By offering the advanced data contractors and fleet managers need, OEMs can increase customer loyalty and add value to their offerings," he explains. "And with telematics solutions becoming highly sought after by contractors and fleet owners, OEMs can take a step out of their purchasing journey by offering them equipment with telematics already integrated—essentially a two-for-one deal."
Benefits of working with a supplier
According to Schlacks, building a telematics platform in-house can be costly for an OEM—upwards of $40 million—and requires years of development. "Telematics platforms are also constantly evolving as the number of regulations increase, so they require constant updates from developers," he says.
Because of this, EquipmentShare saw the opportunity to develop MachineLink, a fully white-labeled telematics platform purpose-built for OEMs. It is designed to be a turn-key solution that is out of the box ready, and includes a full customer interface, robust backend and full support. "For OEMs, this flexibility feels like suddenly adding 50 developers to their organization," says Schlacks. "OEMs are able to access the benefits of a telematics platform without the cost or risk of building out their own solution."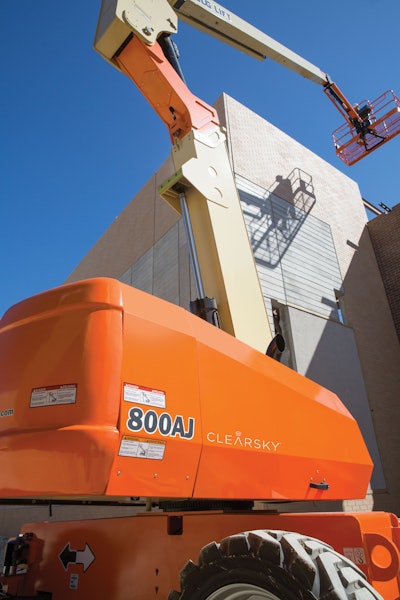 Jon Shapiro, Global Telematics Manager at JLG Industries Inc., says partnering with a telematics supplier is the most effective means of developing and deploying an end-to-end telematics solution because the telematics company is focused on using the latest and most up-to-date telematics hardware and services. These technologies can be very complex and require a higher level of specialized technology experience and understanding which may not be part of an OEM's DNA.
He says JLG works with a number of technology partners for its ClearSky telematics platform which bring a wealth of experience and knowledge about telematics and wireless technology. This enables new technology to be developed and deployed quickly as customer and market changes occur. "These types of technology projects bring the best resources from both companies to drive solutions quickly to the market," says Shapiro. "Each company has specific expertise in their resident knowledge that is not easily replaceable.
"Telematics and wireless data technology is changing and evolving very rapidly, and it is difficult, at best, to keep up with the latest 'trend,'" he continues. "The benefit of this partnership lends well to adapting quickly to changes in the industry and changing customer needs for technology."
Frank Schneider, Senior Product Manager at Telogis, says that by working directly with an OEM, a telematics provider can deliver data that's unique to a particular make of vehicle or equipment, and therefore customize solutions and processes for customers. The overall goal of a telematics system is to help end users run their fleets more efficiently; tailoring a system to their specific requirements ensures only the information that will most benefit their operations is provided.
In November, the company announced a partnership with John Deere that would enable customers to use John Deere construction equipment's built-in connectivity to access a richer data set to provide greater insight into their operations and eliminate manual data entry. "By working in tandem with Telogis, we're giving businesses the ability to run their entire mobile equipment business on one comprehensive software platform with one login for all their vehicles and equipment – whether it's John Deere or a mixed fleet," said Jena Holtberg-Benge, Director Worksight Solutions at John Deere, in the press release announcing the partnership.
Schneider says partnering with Telogis allows an OEM like John Deere to offer a comprehensive solution that goes beyond simple telematics to provide mission-critical capabilities including route optimization, compliance (such as Hours of Service) and commercial-grade navigation.
The ability to access the machine data comes from codifying a standard data interface which the Association of Equipment Management Professionals (AEMP) has been working directly with OEMs to achieve. "This standardized interface enables Telogis to access data directly from the factory-installed OEM telematics hardware," explains Schneider. "For customers, access to factory-fit hardware and OEM-supported data gives them the quickest path to deploy fleet and equipment management solutions."
Unlike many telematics providers which offer their products to end users and OEMs, Hemisphere GNSS solely focuses on the OEM market. "We're providing the toolbox, components and technology strictly to the OEMs to make the system their own," says Randy Noland, Vice President of Global Sales and Marketing at Hemisphere GNSS Inc. "I would say every equipment manufacturer would prefer to own their own positioning system, and this is a way for them to do that."
As a full OEM solutions provider, the company offers any of the various components necessary for a telematics or positioning system, as well as the full system. Even if an OEM has a telematics system already built into its machine—including one from another telematics provider—it can access Hemisphere's GNSS system.
Noland says working directly with OEMs enables deeper technology integration so they can make the system their own, as well as better tailor it to specific applications. "OEMs know their customers better than anyone," he says. "When a system is designed for a particular application, the system requirements come from the OEM's customer." This enables it to be specific to the end user of the equipment, and not a broad open market positioning system that is designed to be a one-size-fits-all solution.
Additionally, Noland says that because Hemisphere's technology is only available to OEMs, there is no aftermarket channel with which the equipment manufacturer might have to worry about competing, as is often the case with other telematics providers. He also notes that Hemisphere owns the manufacturing of its products, reducing their price considerably for OEMs.
The role of data
Data is a key aspect of the telematics system, not only for the equipment user but the OEM, as well. Collecting data on how a machine is operated in real-world conditions enables OEMs to evaluate and refine their machine designs. Noland says by partnering with an OEM, technology providers like Hemisphere can also use the data to refine their systems. It can help both parties to continually update the system to make it more efficient and ensure all of the necessary metrics are being measured.
"One of the biggest reasons OEMs collect telematics data is to build better equipment," says Schlacks. "They want a telematics platform that can provide access to the data they need to see shortcomings and improve product designs." However, the amount of data collected can be overwhelming to receive and analyze. Because of this, he says, "OEMs also want a platform that can provide actionable insights without having to perform a data deep-dive, such as sending reports of equipment behavior patterns or alerts of possible product failure. This predictive form of telematics gives OEMs more time to fix flawed machines, and build for the future." Working with a company like EquipmentShare which has expertise in predictive analytics enables the OEM to get the insights they need to improve equipment designs.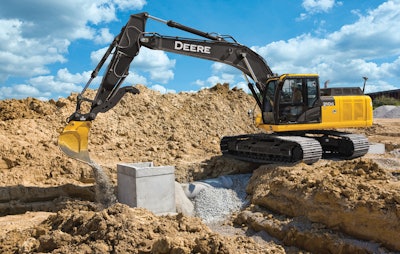 The concept of big data is an important part of this, as well, as Noland says it is basically a repository for everything the machine is doing. "Every piece, every articulation of the machine, all of the positioning of the machine, its full production analysis, all [of this is] being measured and collected, and that's big data," he explains. "And that information helps the OEM and Hemisphere continue to improve the system."
"Big data will drive a better understanding of the operation of the machines and how trends can be viewed," adds JLG's Shapiro. It can help the manufacturer build more useful customer-centric services that will have a positive impact on users. "The potential is there for telematics to be the point on the equipment that gathers and transfers the data back to a center point for further analysis."
Schlacks says the next evolution of telematics and GPS systems will provide contractors the ultimate form of asset management fleet security. While systems today can issue an alert if a machine is moved outside of its designation without proper authorization, he says these alerts are only as good as the contractor's ability to take action. "Telematics of the future will send contractors the data and take action on those insights for a more secure fleet, without needing the contractor to do so."
If, for instance, a contractor receives an alert at 3 a.m. a piece of equipment is traveling outside of its set geofence, unless he or she can get to the machine in a timely manner, the alert is useless. "The future of telematics will involve making that decision for the contractor and instantly shutting down the machine," says Schlacks.
This will be aided by the growing use of artificial intelligence (AI) and automation in telematics. Hardware advancements which can analyze millions of points of data in real time, make decisions and report on the data as necessary will enable machine intelligence to begin moving from the cloud to the machine itself, says Schlacks. This is in contrast to the current method of telematics systems sending limited data to a server based on thresholds and events.
And as the intelligence of telematics is used to enhance machines, he says it will lay the groundwork for automation within the off-highway industry. It will take time for this to occur, though, due to the uncontrolled environments in which off-highway equipment is typically used. More advanced AI will be required than what is currently available in the automotive industry.
"The future of telematics lies in building the fully connected environment where all elements of the contractor's job are seamlessly integrated," concludes Schlacks.
Companies in this article