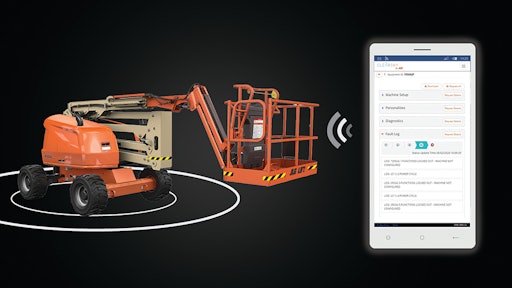 JLG Industries Inc.
Because of the nature of work that construction equipment does, fleet managers often need to send equipment out to remote worksites where the machines' use and maintenance are no longer under their control, sometimes for weeks or even months. This means that proper fleet management (how a fleet-based operation optimizes costs and efficiency and reduces risk) can have a tremendous impact on a company's overall fleet health and stability — and, in turn, profitability.
Fleet management isn't a one size fits all activity. That said, fleet management best practices take into account an equipment fleet's operational efficiency; operational cost effectiveness; operator management; equipment maintenance; and equipment safety and compliance.
Monitoring and tracking these five factors on each machine in a rental fleet may seem like a daunting task, but through the use of telematics, it is easy to gather, read and understand the information machines are providing.
Best fleet management practices
Once a company decides to invest in a telematics solution to enhance their fleet management processes, the next key step is to establish some essential best management practices to make the most of the investment.
It starts with understanding specific fleet management needs and concerns by taking note of specific, real-life occurrences or situations that presented a fleet management challenge or issue in the past. This knowledge can point out specific business needs that a telematics solution can help address.
From there, fleet managers should start by talking to their OEM partners to understand the different telematics programs available in the market in order to choose the one that best suits the business's fleet management objectives.
For example, equipment fleets that include JLG aerial equipment benefit from having access to the OEM's ClearSky telematics with Access Control system and Remote Analyzer features system. This solution is purpose-built to focus on three key areas: Increased utilization and uptime; enhanced opportunities to promote safety and security; and boosting a machine's productivity and performance.
1) Increase uptime and utilization
Telematics can show fleet managers where and how equipment is operating to best track and bill any out-of-contract use. It also helps to manage machine maintenance schedules to ensure machines aren't over- or under-serviced. Using telematics, users can remotely diagnose machine problems to coordinate the right tools and parts needed for on-site repairs. And, users can also deflect unnecessary service calls to increase efficiency of service personnel.
2) Enhance safety and security
Why waste time searching for assets in the field? With telematics, users can always know where machines are located. And, they can prevent equipment theft by setting virtual boundaries that alert unauthorized movement or operation. And, with features like access control, telematics systems also help prevent unauthorized use of equipment by limiting access to only trained operators. This means that telematics enables users to always know when, where and how equipment is operating.
Telematics systems like JLG's ClearSky also provides users with the opportunity to receive automated reports and immediate notifications when problems arise. And, fleet managers can proactively schedule maintenance to reduce unnecessary service calls.
Telematics also allows users to set up geofences and time fences to protect an equipment fleet from unauthorized operation or to prevent untrained operators from using the machines.
3) Boost productivity and performance
Telematics platforms like JLG ClearSky also has tools to analyze fleet and operator data, as well as determine the overall effectiveness of a fleet manager's operation. Sharing utilization and operator data can significantly improve on-site efficiency. And, by using telematics in conjunction with other digital tools, such as building information models (BIM), users can streamline the planning phase of projects to select the right machine for the job.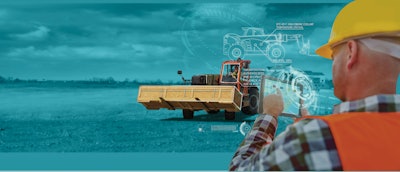 Implementing a telematics solution
Using telematics for fleet management can help get the information necessary to better optimize equipment and help customers be more productive. That said, information (data points) is only helpful when it's put to good use. It's important for fleet managers to work with the OEMs to get the right data, integrate it into useful reports and then utilize it consistently to help make critical fleet management decisions.
Keep in mind, while it's helpful to know every machine's unique status, that data needs to also feed the bigger picture where it can contribute to long-range business goals and improvement strategies. Those goals and strategies might include growing a customer base, offering better machine familiarization at the start of each rental, limiting the geographical radius in which machines may be used and decreasing the number of job site service calls, just to name a few.
Using telematics for fleet management
Although integrating telematics into a business's daily operations can be a bit challenging, there are numerous benefits that can help justify the initial time and effort.
For example, appropriately timing regular and preventive maintenance, in particular, is a challenge that fleet managers face every day. Equipment usage on job sites often lasts weeks or months, and that equipment must be maintained while out in the field to ensure that the machines operate as expected and without interruption to avoid unexpected downtime, lost productivity and the related cost implications.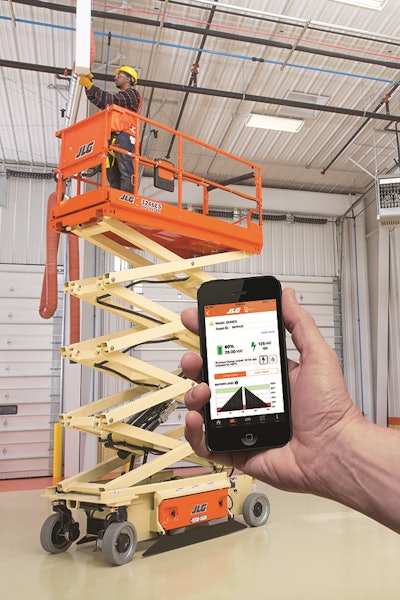 Telematics technology can help address these challenges by giving visibility to the equipment's location on the job site, as well as its operating condition, through fault and diagnostic codes — any time of the day or night. As a result, it is easier to be more proactive when it comes to maintenance.
Access to actual asset utilization metrics, including engine hours, as well as geo- and time-fencing can help avoid unnecessary field service calls and "lost" machines out in the field, making a telematics system worth the investment.
So, what's the bottom line? The best is yet to come in terms of connected fleets and job sites as it relates to telematics and access control. Businesses already use these systems to solve many challenges, but technology continues to advance and the future is very bright. We will see even more functionality and fleet management benefits in the years ahead.
This article was written and contributed by Jonathan Shapiro, Senior Manager, ClearSky Telematics Sales and Business Development, JLG.