Continental
According to a report recently published by Allied Market Research that analyzed the commercial telematics market, the industry is expected to grow at a compound annual growth rate (CAGR) of 13.8% through 2030. However, that growth trajectory is wrought with hurdles along the way, such as data privacy and hacking concerns, installation costs, and overall internet connectivity strength that could negatively impact the rate.
The Allied Market Research report highlighted that the OEM segment held the largest share of the telematics market in 2017, contributing over half of the total market revenue. This was in part due to the large number of vehicles with telematics solutions integrated at the OEM-level for fleet management and asset monitoring.
So, while there are challenges to be faced, overall, the heavy-duty vehicle market is "all in" with telematics systems and its foundation for intelligent transportation systems and autonomous vehicle development and performance.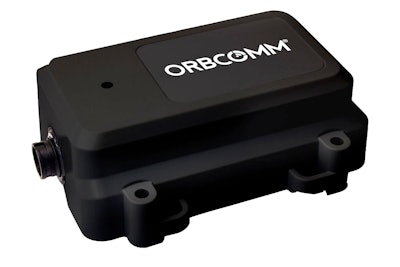 But telematics is a big word. In its most generic definition, telematics is the tracking of a vehicle asset within a defined space as provided by GPS, combined with an on-board hardware unit to provide performance metrics, and connected via a cellular network for data transmission and wireless communication. It transcends simple vehicle connectivity into a whole litany of subsystems and functionality including:
data acquisition and analysis,
collision avoidance,
operator performance monitoring and training/coaching,
asset tracking and management,
geofencing,
predictive maintenance and remote diagnostics,
route optimization,
fuel usage, and
accident detection and liability assurance.
That doesn't even cover all of the information coming from sensors and vehicle systems delivering performance metrics, fault codes and other valuable information that OEMs and component manufacturers use to shape the next generation of equipment.
Product and service launches
In recent months, several system suppliers and OEMs announced new intentions in the telematics space regarding hardware, software and services for the heavy-duty vehicle marketplace.
Continental has noted that in the mid-term, it would be offering fleet operators and construction companies worldwide a brand-agnostic fleet management system leveraging its existing products—from telematics and fleet and tire management to intelligent transport systems, connectivity and smart rubber components to cyber security (read more, 21062656).
In addition, the company will offer vehicle and machine manufacturers more "micro-services" based on fleet management information, and will partner with customers to develop a complete telematics ecosystem tailored to the client's specific needs.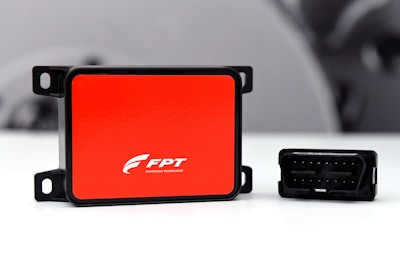 "Those who work with us on telematics and fleet management can utilize equipment better, reduce maintenance costs and coordinate job assignments optimally. Merging the data of connected machines and vehicles in one system enables companies to reliably plan costs and timeframes at the construction site and avoid expensive delays," says Mario Branco, Head of Business Development for Off-Highway Applications at Continental.
While at bauma 2019, Continental showcased a telematics platform designed for off-highway requirements and ready to be upgraded to 5G communications technology. The company is able to leverage its internal telematics expert, Zonar, as well as its own telematics solutions and digital tachographs from its VDO brand. A recent acquisition of Argus brings cyber security specialization into its competencies, an essential part of the overall telematics system architecture and customer service expectations.
Zonar also collaborated with Detroit Connect, Daimler Trucks North America's suite of connected vehicle services, to deepen its connectivity service offering. Zonar will be the first telematics service provider integrated into the Detroit Connect platform, which recently announced that third party service providers could be integrated into the platform, allowing customers the flexibility to work with the partner of their choice as well as eliminating the need to install additional hardware (read more, 21061493).
Also at bauma 2019, ZTR Control Systems and Terex AWP presented their collaborative Genie Lift Connect telematics program. "With the Genie Lift Connect telematics solution, we're giving customers more data and actionable information through a transparent and flexible user interface," says Christine Zeznick, Genie Senior Product and Business Development Manager for Telematics, Terex AWP (learn more, 21045979).
The system was developed in direct response to rental customers—who are familiar with equipment management demands at any fleet size or scale—and their need to operate more efficiently and faster while still providing value and growing their business. While Genie has offered a telematics solution for years (its plug-and-play solution offered flexibility for mixed fleets) the data demand surpassed its capabilities. The Genie Lift Connect program not only provides data, but also the interface to view the data in a way that presents actionable information to maximize efficiency and minimize downtime.
According to Christine Zeznick, Genie Sr. Product and Business Development Manager, Business Development, Terex AWP, as time goes on, the data from the Genie Lift Connect offering will become more and more powerful. Initially, this information will be "descriptive," focusing on what's currently happening with a machine including how many hours are on a machine, where the machine physically is and if there are any fault codes on it. Over time, Genie Lift Connect data can be leveraged on a larger scale and used for "predictive" and "prescriptive" activities, such as predicting failures in the field based on how the equipment is actually being used and proactively prescribing maintenance and service.
Hydrema, an international manufacturer of earthmoving and military equipment, launched its own online portal, Hydrema Telematics, for owners, operators and technicians to remotely monitor their equipment fleet. "Hydrema Telematics is a data collection tool which collects information from the machine via sensors and electronics," states Thorkil K. Iversen, R&D Manager, Hydrema. "The telematics system can quickly help diagnose problems. Alarm codes and vital data from the machine is displayed on the online portal so the Hydrema service-team can diagnose faults quickly and precisely."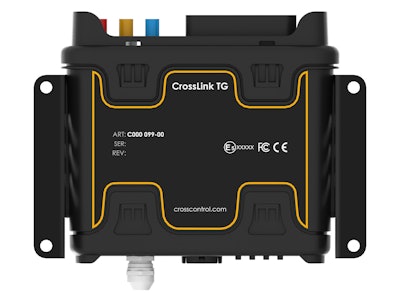 CrossControl, a manufacturer of HMI solutions, announced its HMIoT (Human Machine Interaction of Things) telematics software solution. Its Enterprise Connect cloud solution features a more intuitive user interface for monitoring fleet or vehicle performance metrics. Using the company's LinX software tool chain, OEMs can configure the system to collect the specific vehicle data that is important to them, as well as the management of over-the-air vehicle software updates. Smart Connect enables easy integration of smart devices with the vehicle control system for simple transporting of data to the cloud
The company's CrossFire IX machine controller features built-in Wi-Fi to collect and process a machine's data and communicate select information to the cloud via a smart device. Similarly, the CCpilot VI display uses Bluetooth for wireless transmission. More advanced products that feature GPS, dedicated wireless and telematics modules are available, including the new CrossLink TG which collects vehicle data via sensor inputs, CAN and Ethernet connections. It has a powerful computing core that can run advanced applications including; data logging, diagnostics and Enterprise Connect soft telematics controller or an OEM's own mobile client. Download a product information sheet from CrossControl at www.oemoffhighway.com/21065110.
ORBCOMM launched its latest version of FleetEdge, its integrated heavy equipment telematics solution, and hardware devices for heavy equipment at bauma 2019. According to a press release from the company, the solutions will "enable faster, more reliable monitoring of mining and construction equipment in remote locations, management of mixed fleets on a single data platform and advanced analytics and diagnostics to improve maintenance practices, utilization and operational efficiencies.
"With AEMP 2.0 support, FleetEdge can capture and process a much broader range of data points and numerous error codes, including engine temperature, fuel level, idle times and average power percentage, regardless of equipment OEM or machine type. This capability allows mixed fleet managers to generate a consolidated view of utilization, fuel consumption, maintenance state and other key parameters across the entire fleet, jobsites and other locations on a single platform."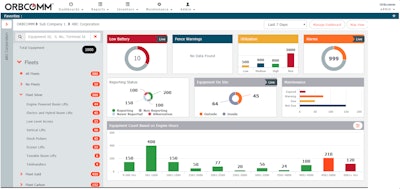 Danfoss highlighted its connectivity solutions at bauma 2019, including its PLUS+1 Connect, a cloud-based communications system for monitoring machine data. The PLUS+1 Connect package consists of the black box with built-in cellular and GNSS/GPS modem (the Danfoss CS100 IoT Gateway), its cloud to store and collect data which also includes analytics services for the data, and a portal interface for user access. The portfolio of products can be used in totality, or as individual elements.
And lastly, Cummins Inc. announced its PrevenTech for Mining, a digital monitoring and reporting solution to provide advanced detection of potential equipment health issues and to help mitigate unplanned downtime with streamlined maintenance and service planning features (read more, 21065088).
From the company's bauma press release, "PrevenTech for Mining applies connectivity, big data, and advanced analytics to engine hardware, to help identify and diagnose performance issues faster and more accurately using the latest internet-of-things (IoT) technology and global security standards. Available with three distinct service levels, PrevenTech offers the flexibility to support unique site operations. The solution includes options for customers to track and monitor their own mining assets, or retain experts from Cummins to watch over their equipment and make personalized recommendations in real time.
"Sources from Cummins internal technology incubation group, Digital Accelerator, have stated PrevenTech will launch for the Mining industry in April 2019, with additional market applications to follow soon after, which include solutions for both the off and on-highway segments."
With the litany of product releases, updates and service announcements related to the broader telematics space, it can be assured that these products and programs will continue to be rolled out to the heavy-duty industries as telematics becomes a commodity and less of an add-on. One can only assume that CONEXPO 2020 will see a new wave of telematics-centered products and updates to continue the connected conversation in construction.
Keep tabs on the telematics industry's development at https://oemoh.com/telematics.
***NOTES TO MINDY***
Dept. Header = Electrical & Electronics: Telematics & GPS