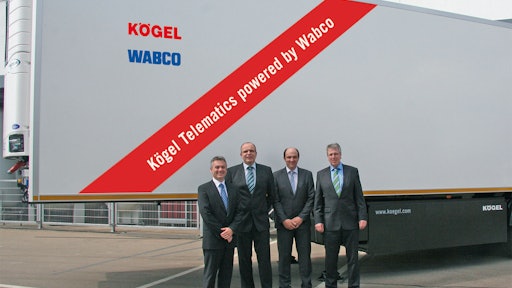 WABCO Holdings Inc., a global technology leader and tier-one supplier to the commercial vehicle industry, announces that it has expanded its long-term partnership with Kögel through a new supply agreement for WABCO's award-winning TrailerGUARD system, a state-of-the-art telematics technology for trailer fleet management. Kögel, one of the largest manufacturers of commercial trailers in Europe, is headquartered in Burtenbach, Germany.
WABCO's TrailerGUARD combines telematics with diagnosis of the vehicle's various operating data. From any location via an easy-to-use internet portal or via integration with a fleet management system, fleet personnel can monitor brake wear, mileage, temperature inside a refrigerated trailer, doors, tire pressure, axle load and the trailer's electronic braking system (EBS), among other operating functions. TrailerGUARD also enables a vehicle to be located in real time, allowing optimized utilization of each trailer.
"WABCO is a long term partner and preferred supplier for Kögel, and we are proud to offer their award-winning TrailerGUARD system as a premium telematics solution to meet the diverse needs of our customers in Europe," says Thomas Heckel, CEO and Managing Director at Kögel. "WABCO's TrailerGUARD sets the transport industry's benchmark for helping our customers to further optimize utilization of their assets through improved vehicle safety and efficiency."
"We are proud of our expanding partnership with Kögel as they are recognized within Europe's commercial trailer industry as an innovation powerhouse through their pioneering engineering of better transport solutions," says Nick Rens, WABCO Vice President, Aftermarket and Trailer Systems. "TrailerGUARD demonstrates WABCO's passion for innovation as we continue to help transport professionals to increase vehicle safety and efficiency while also assessing their current assets and future investments."
TrailerGUARD Telematics is part of WABCO's award-winning Intelligent Trailer Program, a suite of applications for safer, more efficient and more innovative operation of all types of trailers. It allows trailer builders and fleet operators to select those functions that are most relevant and cost-effective for their particular needs through separate or combined modules.