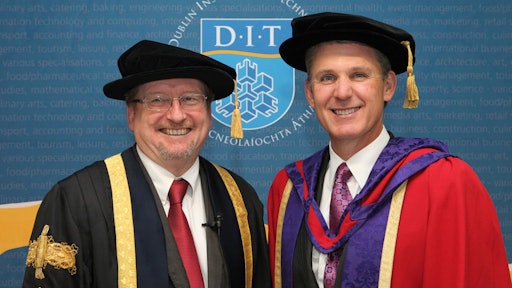 The Dublin Institute of Technology (DIT) recently conferred the award of Honorary Doctorate on Ireland native Ray O'Connor, President and CEO of Topcon Positioning Systems (TPS), a global leader in precision measurement instruments.
The award was conferred in recognition of O'Connor's outstanding achievements in international business and innovation. Originally from County Kildare and now based in California, O'Connor attended the ceremony, accompanied by his wife Nancy, as well as several family members who are living in Ireland and in the United Kingdom.
In his speech to the assembly, the DIT president, Professor Brian Norton, welcomed O'Connor back to DIT, where he had completed his studies in construction in the early 1980's.
About O'Connor, Norton said, "Your positive, forward-looking approach to developing new businesses, and your ability to work across geographical and cultural borders, provide a real example to us as educators and to our graduates as young professionals."
O'Connor travelled to the U.S. when he finished his studies at DIT. He worked for a number of different companies before joining Topcon America, a division of the Tokyo-based Topcon Corporation in 1993.
Dr. Mike Murphy, dean of the College of Engineering and Built Environment, said that "in addition to other accolades, Mr. O'Connor was also the first person who was not Japanese or of Japanese descent to receive the prestigious Toshiba Business Performance Award for his superior leadership and performance."
Outlining his career path, Dr. Murphy said O'Connor had joined a Topcon team of 40 people, and now leads a company employing more than 800 worldwide.
In addition to his role as President and CEO of TPS, earlier this year O'Connor was appointed Senior Managing Executive Officer of Topcon Corporation.
"There is no doubt that Ray O'Connor has enjoyed great success in his career, and we honor him for that. We also honor him for the attributes that have helped him to achieve that success – in particular, his outstanding leadership and team-building qualities and the unlimited vein of curiosity that drives him to continue to learn."
Past recipients of honorary doctorates from DIT include: Pierce Brosnan, actor and philanthropist; Mary Robinson, former president of Ireland; Arthur Ryan, chairman of Penneys; Phil Coulter, musician, composer and music ambassador; Angela Brady, president of the Royal Institute of British Architects; and Dr. Martin McAleese, Irish peace activist.
O'Connor says, "It is indeed a distinctive honor and humbling experience to be included in this extraordinary group of world leaders in receiving this special award from DIT."
The Honorary Doctorate award is conferred on a small number of individuals who have made an exceptional contribution in their field. The award is conferred at the annual DIT graduation ceremony and recipients are introduced as standard bearers for DIT graduates starting out on their careers.
O'Connor was conferred in the company of DIT graduates of the Department of Engineering and Built Environment, accompanied by their families. The DIT is one of the largest institutes of higher education in the country with more than 19,000 students and a staff of about 2,000.