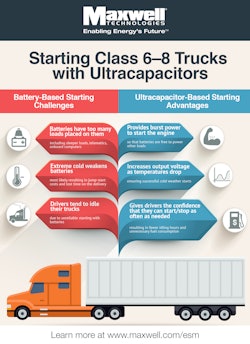 It is often said in the trucking industry that "if the wheels aren't turning, the business isn't earning." When fleets deliver freight on schedule, customers are pleased, drivers are less stressed, and fleet managers enjoy smooth operation of their businesses. However, when drivers are struggling with downtime caused by starting problems, battery-based engine starting may be an issue that needs examination.
How can fleet operators ensure that their drivers get through every day with no starting problems? In many cases, batteries are a less-than-dependable source of power for starting heavy- and medium-duty diesel trucks.
Ultracapacitors provide a higher level of reliability and confidence in engine starting. This white paper will explore the advantages of ultracapacitor-based engine start technology for Class 6–8 trucks.