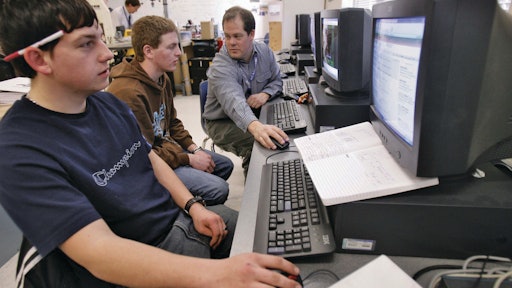 Project Lead the Way (PLTW) is a non-profit organization which strives to promote pre-engineering courses for middle and high school students. The program partners with educational institutions, trains the instructors that will be teaching and implementing the curriculum, and acts as a bridge between educational institutions and private businesses.
The Charitable Leadership Foundation of Clifton Park, NY, provided initial funding of the project, based on collaboration with Richard Blais, currently vice president of state and corporate relations for PLTW. Blais conceived the idea of a pre-engineering curriculum while chairman of the technology education department of an upstate New York school district. Having worked as both a secondary school teacher and as an engineer, he had recognized the growing demand for engineering professionals in the U.S.
The high school curriculum was first introduced to 12 New York State high schools in the 1997-'98 school year, with the goal of being in 50 upstate New York high schools by 2005. A middle school component was field tested in 2000. The program is now found in over 2,200 schools in 50 states and the District of Columbia, with another 600 schools entering the network in September 2008.
The mission is to utilize its partnerships with schools to increase the quantity and quality of engineers graduating from the educational system and contribute to the continuance of America's national prosperity.
The middle school program, Gateway to Technology, is a stepping stone to expose students to a broad overview of the field of technology, focusing on developing stronger math, science and technology skills. The complementary high school program, Pathway to Engineering, uses project-based, hands-on experience to teach key elements and skills of engineering and technology-based careers.
There is an engineering research component which requires a community sponsor and mentor. The students work in teams in order to solve an open-ended, real-world problem facing the engineering world. The mentor provides an outside facility where students can get advice and support from experts in the field while trying to solve the problem.
In addition, teams must present and defend their research projects, results, solutions and conclusions to a panel of representatives including members of the industry and business, as well as parents and members of the educational system.
For the first decade of PLTW "our strategic plan focused on growth with an emphasis on quality," says Niel Tebbano, PLTW vice president of operations. "Our revised strategic plan [for the second decade] focuses on quality with an emphasis on continued growth." Certain priorities haven't changed though, such as PLTW's emphasis on partnerships to allow students to learn with guidance from a professional.
The buddy system
"Everything that we do is based on partnerships," Tebbano says. "The ultimate goal is solving the nation's 21st-century technical and scientific workforce issue. Our partners recognize that if they are going to have the workforce and markets they need for future success, then they need to invest human and financial resources in STEM (science, technology, engineering, mathematics) education.
Each PLTW school assembles a local Partnership Team (PT) which links the educational sector with the community and creates a diverse support network for teachers and students alike. The PTs are to provide students with hands-on, relevant learning experiences to complement the educational curriculum.
A team should include an educator, a coordinator of technology, and two or three parents or employers involved in engineering. The PT members serve as mentors for the students, as well as resources for information and internships/job shadowing opportunities to give the student an enriched and well-rounded educational experience in the engineering field.
One of PLTW's original partners is Autodesk, San Rafael, CA, an international design technology company who, in 1999, provided fundamental software packages for the PLTW courses. "Autodesk recognizes the importance of combining rigorous, real-world learning scenarios with cutting edge technology," explains Gary Conrad, North American education programs manager, Autodesk.
The Autodesk Student Engineering and Design Community social networking website is for students in the fields of architecture, construction, and civil and mechanical engineering. More than 90,000 students from 82 countries have taken advantage of the site's free product downloads and learning tools. Students are able to download a free student edition of Autodesk software, search for jobs, discuss projects and learn from experts.
Dimension, a business unit of Stratasys, Eden Prairie, MN, recently sponsored a grant program for PLTW to allow as many as 20 PLTW network schools to purchase a Dimension BST 768 3D printer. "These grants will give more PLTW students the opportunity to see how ideas can translate from paper into real, 3D product," says Tom White, PLTW director of operations and technology.
"Students are learning 3D CAD through their PLTW courses, and that's where all their hard work is done," explains Paul Carlson, Dimension's education program coordinator. "Then, they hit the print button and our system builds a physical, ABS-plastic model of their design that they can test for form, fit and function. That's invaluable in making engineering exciting for students and in getting them to consider engineering as a career."
PLTW partner, Rockwell Automation, Milwaukee, WI, made a contribution of $455,000 in 2006 to three local middle schools to help incorporate PLTW's Gateway to Technology.
"In addition to the tremendous financial support," says Lauren Baker, coordinator of career and technical education for Milwaukee Public Schools, "Rockwell has mentors working with kids in the schools. They work with us on after-school programs, and they host special events for the five PLTW middle and high schools located near them."
Espey Mfg. & Electronics Corp., Saratoga Springs, NY, an electronics manufacturing facility, contributes to PLTW through engineers who work with students on their year-end projects. Espey also hires student interns through the program and offers two $500 scholarships to Saratoga Springs High School students who enter an engineering technology or drafting program in college.
The company has hired former PLTW students as full-time engineers after they graduate from college. Peg Murphy, director of human resources at Espey says, "Our engineers are energized by PLTW.
"It is good for our employees to see new ways of looking at things; that is what these students offer. Engineers, especially electrical engineers, are sometimes very hard to come by, so it is exciting to know that a new generation of engineers is developing right around the corner from us."
Keeping pace with the rest of the world
Whether a person believes there is a shortage of engineers or not, there is no denying that, in order to keep up with the demand for technological advancement, new engineers are needed to keep ideas fresh and innovative.
"Our country is graduating about 84,000 engineers a year," says Blais. "Other countries like China and India recognize the importance of having more engineers and technicians coming out of their education system. For example, China is graduating about 300,000 engineers each year.
Richard Liebich, chairman, PLTW, adds, "My customers were always complaining about the inability to hire enough engineers to accomplish what they need to accomplish. What you find out is that they're going to go overseas to find engineers if they can't find them in the U.S.
As the uses of science and technology expand in today's job market, our nation will need a constant supply of engineers graduating from college in order to remain competitive in the world's marketplace.
A member of PLTW's board of directors, Frank Zaffino, former vice president of manufacturing, Eastman Kodak Co. and former president, CEO and chairman, Paragon Corporate Holdings, attests to the value of the program and touches on important issues facing the engineering industry.
"For as long as I have been involved in the business world, I have been frustrated by the fact that the number of engineering graduates in the U.S. has not kept pace with demand. This fact has made it difficult for domestic companies to compete with offshore manufacturing, where labor rates offer a differential advantage that can only be overcome through technology. Because I believe that the very standard of living we enjoy in this country is supported by our technology base, I believe it is imperative that we stimulate the interest of our young people in the study of technology during their formative years. Project Lead the Way addresses that need at its very foundation by creating effective curricula, by training teachers to present technical material effectively, and by providing the resources required to support classroom activities."
MATH 401: Statistics
Preliminary analysis of college transcripts in 2005-'06 school year, conducted by TrueOutcomes President Douglas Walcerz, shows that PLTW alumni "pursue engineering and technology at five times the national average rate for typical first year students and are very successful in college, achieving a GPA of above 3.0 with average grades of B or better in calculus, physics and chemistry."
Other significant achievements include the high number of PLTW students who plan to attend college, 80%, as compared to the national average, 63%. Of the 80% of PLTW students who plan to attend college, 73% indicated that their course of study would emphasize engineering, technology and computer sciences.
This not only shows that a high percentage of students involved in the program are excited about exploring further in the engineering field, but that students are able to make a more educated decision as to whether or not engineering is the correct course of continued education for each individual. To give students the option to explore a possible career choice while still in middle and high school means more students are choosing engineering with excitement instead of blind curiosity.
The research further indicates that about 40% of PLTW students, by the end of their first year of college, were majoring in engineering or engineering technology.
The Milwaukee School of Engineering (MSOE), an affiliate of PLTW, currently has 58 students with prior PLTW experience enrolled — 14 sophomores and 44 first-year students. The average grade point average for an MSOE student during the 2006-'07 school year was 2.85; the average GPA for the PLTW first-year students was 3.03.
Hermann Viets, president of MSOE and member of the PLTW national board says, "Generally, students enter MSOE and hit the rigor of the courses and drop their GPA somewhat from the beginning of their college career. The sophomore GPA for last year was 2.99 which means that the PLTW freshmen have already outpaced students in their second year."
Another interesting statistic shows that on average, 65-70% of MSOE first-year students stay with their declared major. The rest change majors, transfer or drop out. In contrast, 100% of the 58 PLTW students have remained in their declared majors.
Getting kids interested and experienced early on means that once students get to college, they have a better grasp of the type of engineering they want to focus on. More focused education means more specialized engineers in the work force after graduation. The earlier a student can learn what they are and are not good at — what they do and do not enjoy — the sooner they can develop an understanding of what they will enjoy as an adult.
By getting engineers and corporations involved with the program allows the companies to give the students the specific skills necessary to fill a particular role in the working world. Internships and mentoring create partnerships between student and company that eventually can turn into experienced engineer and employer.