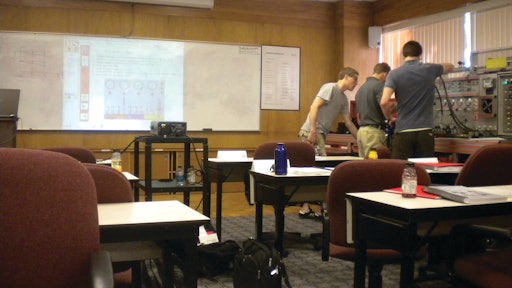 Most employers will tell you there is no substitute for hands-on experience. You can have all the education in the world from books, but actually being able to put that knowledge to practical use is equally as important.
This is why schools such as the Milwaukee School of Engineering (MSOE) put a large emphasis on combining classroom learning with laboratory work. Doing so enables the students to apply the knowledge they've learned in the classroom to real-world applications.
The school's hands-on approach is also emphasized in the professional education seminars it offers to engineers. Courses on a variety of topics are available throughout the year and combine lectures with laboratory work. Offering these types of educational opportunities enables MSOE to help engineers acquire the skills they need to stay on top of the latest developments within their industries.
Learning opportunities
In order to provide its students with a well-rounded education, MSOE offers several ways to gain hands-on experience. Along with laboratory sessions which accompany classroom lectures, MSOE hires many undergraduate and graduate students to work part-time at the school's Applied Technology Center.
One of the recent research projects being conducted by MSOE concerns the lifespan of LEDs. Professors and students have spent the last several months testing different types of LEDs to see if they actually last as long as they should. Working on this project has allowed students to put what they've learned in the classroom to use as well as enhance their skills for future employment.
Another way students have applied their coursework to real-world situations has been building equipment used at the school. Whether as part of a class project or one funded by a company, much of the equipment used in the Applied Technology Center was designed, developed and built by students, as well as professors, at the school.
Working with engineering companies
Projects MSOE works on are often funded or commissioned by companies. The school offers testing, prototyping and other resources as both a service to the company and a way to get students the hands-on experience they need.
This working relationship between the school and companies helps both parties. Companies are able to outsource some of their workload and see the capabilities of potential future employees, while students have a chance to gain skills and network with the engineering professionals.
Companies can contract the school to test newly developed products or systems, conduct troubleshooting analysis or administer performance and endurance research. MSOE's independent research laboratory uses the most up-to-date equipment to ensure accuracy.
MSOE's Fluid Power Institute (FPI), part of the school's Applied Technology Center, has been offering its engineering services to companies since 1962. Over the years, FPI has worked with numerous OEMs, government agencies and others involved with the fluid power and motion control industry. Some FPI's capabilities include testing pumps, valves, and motors as well as performing environmental evaluations. The FPI staff is comprised of students and faculty, providing a chance for both to enhance their skills and knowledge base.
Professional Education Seminars
Since 1950 MSOE has been offering professional education seminars to help engineers keep up on their skills as well as learn new ones. Each year 200 to 250 engineers from 40 to 50 different companies attend seminars such as Introduction to Hydraulics and Electro-Hydraulic Components and Systems.
Taught by MSOE professors, the seminars continue the school's emphasis on using a combination of lectures and laboratory sessions to give attendees a chance to apply the knowledge they've learned during the course. Currently 25% of seminar time is devoted to hands-on lab work, which is unique to most professional education courses according to Dr. Medhat K. Bahr Khalil, MSOE's Director of Professional Education & Research Development.
Dr. Khalil teaches many of the professional education seminars at MSOE and believes pairing laboratory sessions with lecture material is important. To help enhance the learning experience, Dr. Khalil was part of a team at MSOE that designed and developed the Universal Fluid Power Trainer. This compact, mobile fluid power and motion control training unit uses state-of-the-art software to perform laboratory simulations. There are three training units set up in MSOE's classroom dedicated to the educational seminars and with its mobility, the training unit can easily be taken to other locations when necessary.
While MSOE has a schedule of seminars for the year already planned out, they are always willing to work with individual companies to hold on-site seminars. In May the school held a shortened version of its Introduction to Hydraulics course for students who were going to be working as summer interns at companies such as John Deere, Parker Hannifin and Sun Hydraulics. Sponsored by the companies they would be interning with, the students were able to attend the course and learn the skills they would need to use at their internships. This included learning how hydraulic systems work as well as how to go about choosing the right components to use in such a system.
Taking a hands-on approach to learning is important to MSOE, both for its full-time students and the engineers it educates through the professional education seminars. By placing such a strong focus on mixing classroom knowledge with real-world application projects, the school is helping to provide a skilled engineering workforce for years to come.