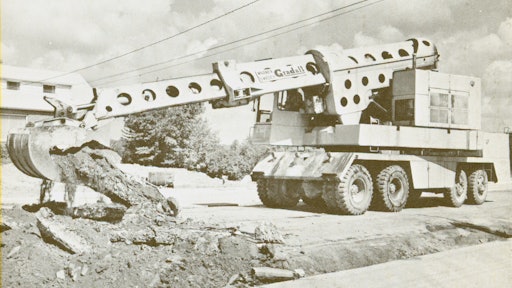 Even though the development of interchangeable attachments in the early 1900s endowed cable excavators with unprecedented versatility, there were still excavating tasks for which they were ill suited.
An especially troublesome task was the finishing of slopes. A cable excavator could rough out a ditch or a cut very handily, but trimming the slopes of cuts, fills and ditches to exacting specifications required expensive hand labor because there was no machine on the market that was capable of the task. The work could take so long that the entire project could miss deadline for completion; even worse, a downpour before acceptance of the work could necessitate doing it all over again to repair erosion.
Cleveland, OH, contractors Ray and Koop Ferwada came up with a solution to this problem. They conceived a machine that would not only excavate roadside ditches and catch basins, but would also finish slopes in such a way as to strengthen them against washouts. It would have a horizontal boom that could be raised, lowered and telescoped from 10 to 20 feet. The boom would be mounted on an excavator-like frame that revolved 180 degrees left or right and was mounted on a conventional highway truck. It would use interchangeable buckets for the work at hand, and the bucket pivoted at the end of the boom with the open end facing the machine.
A patent was applied for in 1940 and granted in 1944, and the first "Material Mover" prototype was built in early 1942. This was the first American-built all-hydraulic excavator. An improved "Sloper" built the next year incorporated the ability to rotate the boom left or right, and in 1944 it was redesigned and given the name it still bears today, Gradall.
The subsequent business history of transactions, spinoffs and so forth is too complicated to explore here, but the Gradall was eminently successful. It was very versatile, finding work in everything from snow removal to blast furnace maintenance. Its versatility was enhanced by a variety of attachments including teeth, drills, picks, blades, vacuum clamps and rakes.
In addition to the Gradall line that was offered by Warner & Swasey (which acquired the patents in 1945) and Badger, Hein-Werner, Link-Belt, Little Giant, Quickway and Schield Bantam (later Koehring) also produced telescopic excavators.
The Historical Construction Equipment Association (HCEA) is a 501(c)3 non-profit organization dedicated to preserving the history of the construction, dredging and surface mining equipment industries. With over 4,000 members in 25 countries, activities include publication of a quarterly educational magazine, Equipment Echoes; operation of National Construction Equipment Museum and archives in Bowling Green, OH; and hosting an annual working exhibition of restored construction equipment. The 2015 show is Labor Day weekend in Janesville, WI. Individual memberships are $35.00 within the USA and Canada, and $45.00 US elsewhere. HCEA seeks to develop relationships in the equipment manufacturing industry, and offers a college scholarship for engineering and construction management students. Information is available at www.hcea.net, by calling 419-352-5616 or e-mailing info@hcea.net.