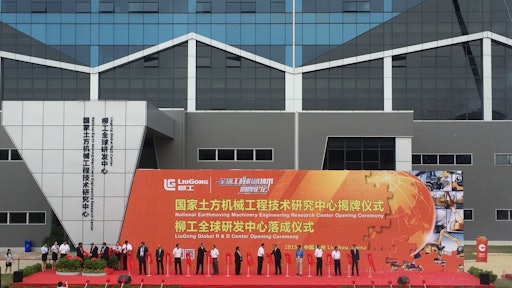 LiuGong, China's premier construction equipment manufacturer, recently held the inauguration of its a new global Research and Development Center in Liuzhou, underlining the company's long-term commitment to durative innovation, as well as to future technology.
The inauguration was attended by Xue Yiping, Vice Chairman of China Machinery Industry Federation; Zheng Junkang, Party Secretary of Liuzhou; Xie Naitang, Head of Guangxi Science and Technology department; David Phillips, Managing Director Off-Highway Research; Li Peigen, Academician of Chinese Academy of Engineering; Hermann Beck, Senior Executive Vice President, Industrial Technology Division, ZF Friedrichshafen AG; Sun Bo, Deputy Director of Chinese Arctic and Antarctic Administration; Peng Lixin, Vice President of Cummins; Peter Dschida, Senior Vice President Sales of Bosch Rexroth AG; Wang Guiqing, Vice Chairman of China Chamber of Commerce for Import and Export of Machinery and Electronic Products; Zeng Guang'an, Chairman of LiuGong Group; Yu Chuanfen, President of LiuGong Machinery Co., Ltd. and other notable VIPs and distinguished dealers and customers.
The initiative will expand the company's R&D capability and is a major milestone. With the world-class hardware in the new R&D center, a state-of-the-art testing platform, modern manufacturing plant, as well as the 1,000+ top quality technical team, LiuGong has entered a new era of R&D.
Guang'an says, ''R&D is the nucleus of the future and the ability to be innovative is an uppermost priority for the future. At LiuGong, R&D has always been major focus. The new center is a significant commitment to future technology, with many more scientific and technological advances being made. We are confident it will provide all tools we need to become the game-changing company in the construction equipment industry."
Yiping says, "The newly opened R&D center shares the responsibility to break the bottleneck of technology development for the CE industry. As a leading player in the CE industry, LiuGong is uniquely qualified to help the whole industry to speed up the technology upgrade and to make independent innovations."
"Liuzhou is one of the best places to live, work and invest in China," says Junkang. "LiuGong is one of the most prominent brands in the CE industry and its home based is here in Liuzhou. The company makes outstanding contributions to the city. Today's announcement that they are opening a new research and development centre is proof that the city breathes prosperity and embraces open innovation."
Naitang says, "I hope LiuGong can serve as a role model for CE industry and continue to enhance the capability for independent innovation. Based on the newly opened R&D center, I believe LiuGong can compete with the leading market players in the world and win in the long run." 
Key Facts about LiuGong's Global R&D Center
Based in Liuzhou, the global R&D center will be the new hub that influences LiuGong's four other world-class R&D facilities in India, Poland, the United States and the United Kingdom.
The modern facility spans 110,000 m² and includes an office complex which covers an area of 22,000 m², a global test center covering an area of 100,000 m², a prototype center, seven laboratories, and a large outdoor experimental field. It seats 1,200 engineers.
Development began in Liuzhou in 2013 and the accumulated investment in the project since then has reached RMB270 million (USD43.4 million).
The new R&D center will initially focus on major research, development and testing for LiuGong's lines of wheel loaders, excavators and graders etc. One of the first projects will be the completion of research and development, as well as testing the latest models of H Series wheel loaders.
Alongside this, its comprehensive range of laboratories will develop sophisticated measures to test and optimise all aspects of machine performance, such as structural design, materials science, electronic and hydraulic efficiency, cooling, vibration and noise.
The new Global R&D Center has several specialized training laboratories including virtual reality studios and industrial design studios, which will also be the focal point for technical training within LiuGong.