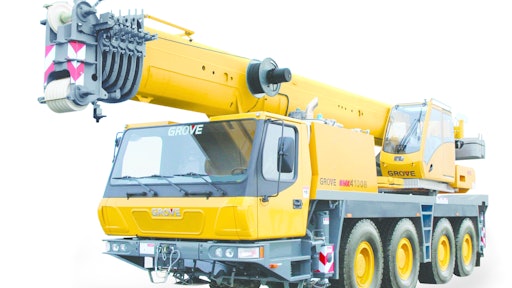 Manitowoc Cranes has been awarded a $192 million contract to supply Grove all-terrain cranes to the U.S. Army. The multi-year deal will have the company provide customized GMK4100B cranes to the military branch over the course of five years, with a two-year option at its completion that could bring the total to $258 million. Manitowoc was awarded the contract from the U.S. Army Contracting Command, which handles material acquisitions for this sector of the armed forces.
Customizations to the crane, which were specified by the military, include the ability to ford water up to 48 in., perform flawlessly in harsh conditions, and to operate pile driver, clamshell, concrete bucket and concrete barrier lifting attachments. A crew protection system will also be installed to provide safeguards for soldiers operating or driving the cranes. Primarily, the Engineer Brigades division of the U.S. Army will operate the unique cranes, but other branches of the military will be able to procure similar units.
"We've been working on this opportunity for more than four years, and this tender award is a testament to our unparalleled focus in delivering the best return on investment for the customer," says Darryl Mellott, Director of Government Marketing for Manitowoc Cranes. "The U.S. Army had direct input on the customization of these 60 USt capacity Grove GMK4100Bs, which will be optimized for their missions around the world."
Manitowoc will design and build a simulator for the cranes that will enable soldiers to train without having to use the cranes themselves. Also, Manitowoc will formulate technical manuals for the Army, including service, operation and maintenance procedures. The company will provide field representatives to the military that can offer field-level support at any time, anywhere in the world through its Crane Care service. 
The customized GMK4100Bs will be built and tested at Manitowoc's factory in Shady Grove, PA. The first deliveries are anticipated to be between one and two years from now. Per specifications, each crane will be painted in Army colors and have the capability to be fitted with armor.
The modified GMK4100B will have a 60 USt capacity and feature a 108-foot boom. Its 390 hp Mercedes engine will provide smooth and consistent power, both on and off road, to the 8x6x8 drive system. Its two-step transfer case will also increase agility at low speeds.
"These cranes will be especially transportable, reflecting the nimble maneuverability of the U.S. military," Mellott says. "We are honored to be able to support our soldiers in achieving their missions anywhere in the world."