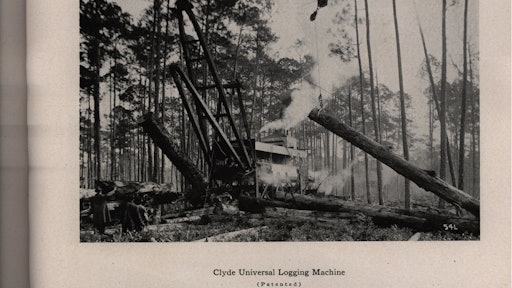 The mechanization of logging in the late 1800s and early 1900s produced some remarkable machines capable of handling large volumes of timber as efficiently as possible within the constraints of available technology.
The goal was to move logs from where the trees were felled to a railroad for long distance transport, and load them onto the log cars. Horses, mules and oxen were originally used to drag the logs, and their efficiency was increased by the use of wheeled trusses that suspended the lead end of the logs, reducing their friction.
But, rough terrain required the building of skid roads, or else the size of the loads that could be moved would be severely compromised. As steam-powered hoisting machinery evolved, the technology was applied to logging in some novel ways.
Clyde Iron Works of Duluth, MN, was a leading manufacturer of hoisting, logging and material handling equipment in those days. Most of its log handlers were rail mounted, although at least one could be simply set on skids on the ground. Each was designed for a different set of working conditions. Some were set up to skid logs along the ground while others used cableway technology such as was used to build large dams, and at least one could be set up in either way.
Other machines were designed to load logs onto the cars. This was accomplished on most Clyde models by passing the empty cars under the elevated frame of the loader, either by means of swinging the loader's trucks out of the way so that it stood on four legs, or by the cars being drawn over a hump of temporary track set atop the track upon which the loader traveled. One loader was perched atop an empty car and was simply winched from car to car, picking up loads and placing them behind it.
As awkward as these concepts were, they solved the problems at hand – these machines handled and loaded logs efficiently, while meeting another need, allowing most of the machines to be moved in and out of the remote woods fairly easily by rail.
Some of these concepts continue today in the form of rubber-tired and crawler skidders, high-line logging and hydraulic, full-revolving, heel-boom loaders. But one can only imagine the safety concerns that would be raised today by passing a log truck under the machine that was loading it.
The Historical Construction Equipment Association (HCEA) is a 501(c)3 non-profit organization dedicated to preserving the history of the construction, dredging and surface mining equipment industries. With over 4,000 members in twenty-five countries, our activities include publication of a quarterly educational magazine, Equipment Echoes; operation of National Construction Equipment Museum and archives in Bowling Green, OH; and hosting an annual working exhibition of restored construction equipment. Our 2016 show is September 16-18 at our Museum. Individual memberships are $35.00 within the USA and Canada, and $45.00 US elsewhere. We seek to develop relationships in the equipment manufacturing industry, and we offer a college scholarship for engineering and construction management students. Information is available at www.hcea.net, or by calling 419-352-5616 or e-mailing info@hcea.net.