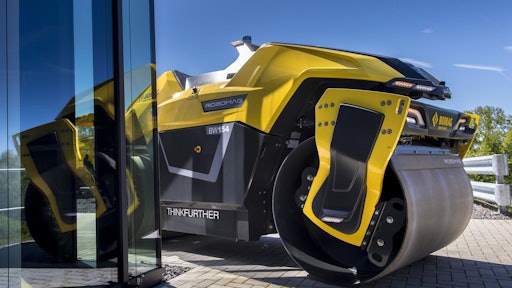 iF Design
The iF DESIGN AWARD is considered one of the world's most celebrated and valued design competitions. Organized by the iF International Forum Design GmbH, the annual award is recognized as a symbol of design excellence.
Thousands of submissions in a variety of product categories are accepted each year from countries around the world.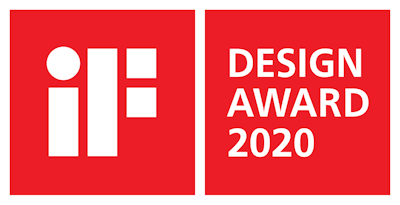 Begun in 1953 as a way to foster and support well-designed industrial products, the award follows six guiding principles:
To identify, support and promote good design
To raise awareness of design among the public and the role it plays in our lives
To help companies integrate design into their long-term strategies
To safeguard the role of professional designer and boost awareness for this job profile
To effect social change through design
To support talented young people and create a public platform for young designers
Award winners are selected by a jury panel of global international design experts. In 2020, there were 7,298 entries from 56 countries–an increase of about 1,000 entries from the previous year. A total of 1,453 winners in seven disciplines have been honored this year. Seventy-five have received the iF gold award.
Selection criteria ranged from an assessment of the product's uniqueness, execution and workmanship, to evaluating its aesthetic and emotional appeal as well as considering its environmental standards and carbon footprint.
IVECO S-Way heavy-duty truck
IVECO's new S-Way has received the iF DESIGN AWARD 2020 in the product discipline. The company says its newest truck design meets the criteria of the award due to various elements included in the truck's design.
The vehicle offers a complete package of features developed with a focus on driver centricity, sustainability and a new, extended level of connectivity – everything logistics operators need to ensure their fleets benefit from top-level uptime, efficiency and productivity. The IVECO S-Way design encapsulates both technical and aerodynamic features into a harmonious and integrated body.
The seamless integration of key vehicle components is designed to bestow a strong sense of continuity between the front and the side of the truck. The upper roof design maximizes interior living space and contributes to a sense of strength and stability.
IVECO S-Way is characterized by all the styling cues that identify the IVECO DNA such as the logo dominating the highly detailed and iconic grille, the sharp headlamps, and the perfect surfaces and balanced proportions typical of the Italian design heritage.
The S-Way was designed by IVECO's parent company CNH Industrial.
Wirtgen W 210 Fi large milling machine
The Wirtgen W 210 Fi large milling machine has received the iF DESIGN AWARD in the product discipline. According to the company, the milling machine was chose for its ergonomically designed operator's platform, which offers both excellent visibility and intuitive operation. The machine's static basic design in conjunction with its dynamic lines, structure, and color scheme also lend it an impressive overall appearance.
Additional features of the W 210 Fi include automated features to help increase efficiency, as well as storage and maintenance areas which are easily accessible and can be tailored to operators' needs.
The jury also honored the vehicle for its overall shape and design which features dynamic lines and coloring.
Read more: Wirtgen Premieres Large Milling Machines
Budde Industrie Design GmbH in Germany designed the large milling machine for WIRTGEN GmbH, also based in Germany.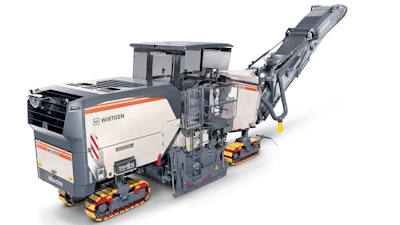 MAN Lion's City E electric bus
The MAN Lion's City E has received the iF Gold Award 2020 in the product discipline. This electric city bus features a flexible-length base, and features dynamic lines which provide an appealing yet classic appearance.
An ergonomically designed cockpit helps keep the driver comfortable and productive. According to the jury, it is also designed in a functional and aesthetically appealing manner.
The Lion's City 12 E is able to fit up to 88 passengers, which was aided by the removal of the engine tower which allowed the seating area in the rear to be optimized with extra seating. Placement of the batteries on the roof provides a solution located away from the rear to prevent any possible issues in the event of collisions while also making them easier to access for service work.
An all-electric driveline produces 160 kW up to a maximum of 240 kW, and provides a range of 200 km (and up to 270 km in favorable conditions) over the entire service life of the batteries.
"Ergonomic and aesthetically pleasing, the design of this electric bus is clean and consistent. Outside, the front with brand-specific headlights impressed us, as did the use of glass surfaces and modular body panels. On the interior, high quality materials and a modern color scheme shine through in every detail," says the official statement of the jury in describing the city bus.
The bus was designed by MAN Truck & Bus AG.
Read more: MAN Introduces New City Bus with Focus on Efficiency and Comfort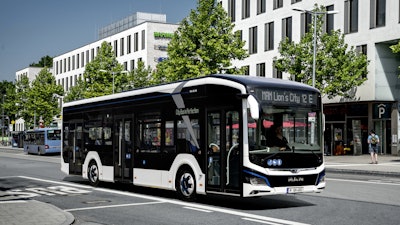 Awatto autonomous trailer tractor
As a winner in the professional concept discipline, the Awatto autonomous trailer tractor offers a look at the rapid changes occurring in the distribution sector and the way goods may be transported in the future.
The concept vehicle offers various autonomous mobility opportunities in various businesses, including those with nonpublic operations such as yard, RORO and intermodal applications. It also demonstrates capabilities for on-road highway platooning and end customer distribution.
Awatto is compact in size and features four-wheel steering to easily maneuver in space-constrained areas, as well as dock a trailer from either end of the vehicle.
Lighthaus Industrial Design designed the concept autonomous trailer tractor for Kalmar Mobile Solutions.
CLAAS LEXION 8000 combine harvester
Winner of the iF Gold Award in the product discipline is the CLAAS LEXION 8000 combine harvester. Redesigned from scratch, the combine's proportions were designed to make the best possible use of space.
The combine features a larger grain tank to help increase productivity, as well as larger wheels and track drives to protect the soil.
"The Claas Lexion 8000 harvesting machine has a design that optimally unites ergonomics and comfort. The fully glazed cab, which provides an all-round view, the larger grain tank and the high degree of functionality leave little to be desired. This is a harvesting machine that begs to be taken to the field!" says the official statement from the jury.
The combine was designed by Budde Industrie Design GmbH and CLAAS.
Read more: A Bigger, Better Combine Design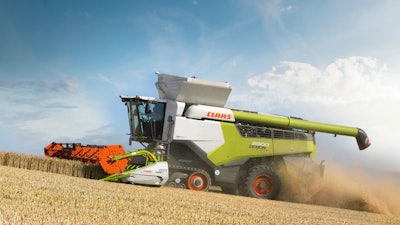 John Deere Next Generation 8R tractor
In the product discipline, John Deere's new 8R tractor has also been named a winner of the iF DESIGN AWARD 2020.
The tractor features over 200 integrated sensors to enable advanced connectivity and self-driving capabilities. A newly designed cab helps keep operators comfortable while the machine architecture enables the use of wheels, two tracks or integrated four-track traction option.
The tractor was designed by Designworks, a BMW Group Company for John Deere.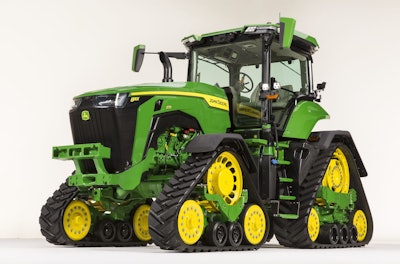 Hidromek electric construction equipment
Hidromek had two pieces of equipment receive iF DESIGN AWARDS, both of which are part of its new HICON sub-brand of smart and electric vehicles.
The 100% electric HICON Vision Rotary Loader (VRL) features a 360 degree swing mechanism and bi-directional control feature to optimize maneuverability in space-constrained environments. An ESS (Environmental Safety System) on the loader consists of multiple radar and Lidar sensors, as well as cameras to ensure safe working conditions.
Hidromek's HICON 7W electric excavator is a 100% electric powered machine designed to provide a zero-emissions solution for working in city centers. Its compact size ensures optimal maneuverability in urban spaces. A rear information screen and lighting system on the excavator helps to guarantee safety for those working around the machine. Electric power is provided by a new generation of Lithium-Ion batteries.
Both machines were developed in house by Hidromek.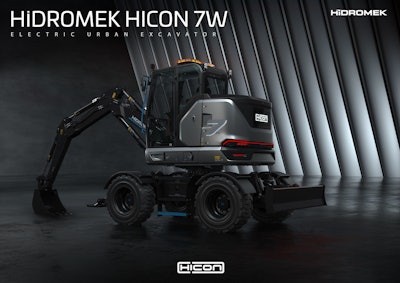 BYD electric bus
BYD's 40-ft. eBus has received the iF DESIGN AWARD 2020 in the product discipline.
According to the company, the BYD eBus was selected specifically for its "Home from Home" design concept, which is the result of careful consideration of the future of vehicle electrification, placing it into the context of a true passenger experience. Interior and exterior treatments come together to produce a vehicle which delivers on functionality and emotion, and, crucially for the iF Design Award judges, one that bears witness to an imaginative design evoking a very real sense of welcome, delight, and inspiration.
The journey towards BYD's eBus design was the result of the globally-renowned Vision in Product (or ViP) design ethos; the culmination of a long-term, multi-layered working process. BYD's design team immersed itself in design exhibitions, inspirational presentations, and by working closely with design experts outside of vehicle manufacturing in order to assemble the fundamental Home from Home building blocks.
"I am absolutely thrilled for our design team," says BYD Europe Managing Director Isbrand Ho. "Few people realize the constraints that exist in designing a passenger carrying vehicle. Functionality is paramount and safety is the prime concern. The iF Design Awards expert judges fully appreciated the efforts our designers made in creating a Home from Home experience built into a stunningly attractive vehicle design; one that delivers a striking on-road presence and a safe, comfortable, and calming environment for passengers."
The bus' smooth roofline removes equipment from sight for clean aesthetics, while the vibrant orange and cool, calm pastel-blue create a dynamic contrast. Inside, the cabin colors, subtle material finishing, and ambient lighting create a spacious and relaxing atmosphere. From a technology perspective, the digital mirror and the new dashboard display are safer and future-proof. A lightweight body structure, battery management system, and new CO2 air conditioning lower the energy consumption.
The BYD eBus was designed in house by BYD Auto Industry Co., Ltd. and BYD EUROPE B.V.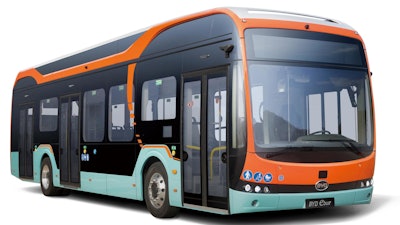 Doosan DL Series wheel loader
Doosan's DL Series wheel loader features a premium design which meets the latest European emissions regulations (Stage V). The DL series includes 10 models with the same exterior styling with an optimized color balance and LED lights on the rear grille.
Improved visibility features aim to improve safety for operators, as well as those working around the machine. Inside the wheel loader cab is a new steering wheel, smart key system and further upgrades to increase operator comfort and productivity.
The wheel loader was designed by Doosan Infracore.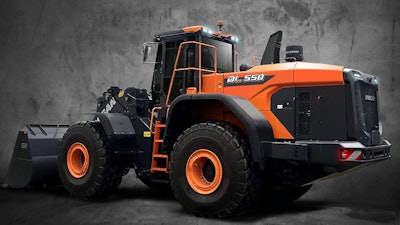 BOMAG Robomag autonomous asphalt roller
BOMAG's autonomous asphalt roller, Robomag, has received the iF DESIGN AWARD 2020 in the professional concept discipline. This fully autonomous machine is designed to be used in a defined work area completely independently.
Use of various sensors on the machine help direct it through the work area while also ensuring safety by preventing potential collisions. When traveling autonomously, BOMAG's Asphalt Manager 2 provides intelligent active control and monitoring of compaction.
The asphalt roller helps to overcome the challenges associated with the lack of skilled labor in the construction industry, while also providing a means to use workers for other tasks which increases their health and safety on the job site.
The autonomous asphalt roller was designed by loew d.sign* for BOMAG GmbH.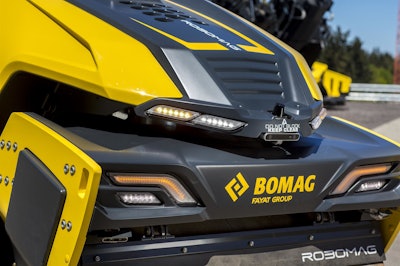 Basak 5000 Series agricultural tractor
The 5000 Series Red Power Series tractor from Turkey-based Basak Traktor is designed to offer a high level of comfort within the spacious cab. Basak's tractor features a clean, sleek appearance and includes easy access to all critical machine functions and maintenance points.
In the cab is a multicontroller armrest which puts all machine controls within easy reach of the tractor operator—inclusion of these types of control systems is a growing trend within the heavy equipment industry.
The tractor was designed in house by Basak Traktor.
Gruzovikus

autonomous truck tractor

Gruzovikus is a fully-autonomous freight truck designed to pull semi trailers. However, it has no operator cab since there is no need for a driver within the vehicle. Gruzovikus is meant to demonstrate the future of transport.

The vehicle is equipped cameras, radar and other sensors to safely maneuver through environments while ensuring collisions are avoided. A central computer instantly triggers a response to changes in traffic conditions. The tractor is electric powered, as well.

Gruzovikus was designed by Art. Lebedev Studio.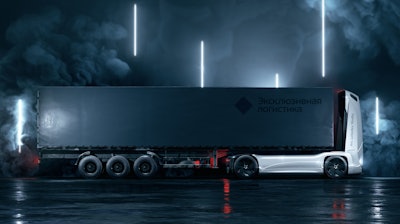 Companies in this article